RESERVE YOUR TICKET + 1 HOUR PRE-PARTY

info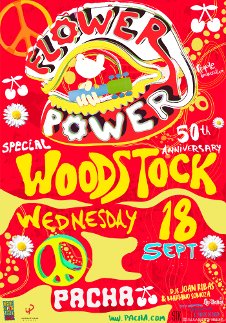 RESERVE VIP TABLE
infos
The island's longest standing residency Flower Power will return to Pacha on Wednesday night from the 29th May until the 2nd October. Original Pacha Ibiza party Flower Power is unique in every way and is the hippy diamond among the techno rough on the white isle. In the same year Pacha Ibiza opened in its doors in 1973, Flower Power began and has been going strong since. The music genre differs greatly to the widely available sound offered everywhere else on the island, focusing on rock, soul and disco from the sixties through to the eighties. Quintessential Pacha, the hippy and joyful vibe give you the feeling that you've stepped back in time with the impressive costumes and elaborate decoration of the club. The party truly encompasses the spirit of Ibiza and promises a night full of unique experiences and hippy vibes. Rejoice the sixties throwback and join the easy going, care free spirit of this soiree at Flower Power, Pacha Ibiza.
Flower Power Pacha Ibiza will celebrate on Wednesday September 18th a music tribute to Woodstock to commemorate the 50th anniversary of the iconic music festival held in the state of New York in the summer of 1969.

DJ Joan Ribas, the music director of Flower Power by Pacha, has put together a "Special Woodstock" night to enjoy the sound of the main acts of the phenomenal festival in which artists such as Jimi Hendrix, Carlos Santana, Jonis Joplin, Joe Cocker and The Who participated, in addition to the best tracks of emblematic bands of the 60s and 70s such as Rolling Stones, Deep Purple, The Doors and Led Zeppelin.
ALL FLOWER POWER EVENTS
club info