RESERVE YOUR TICKET + 1 HOUR PRE-PARTY

info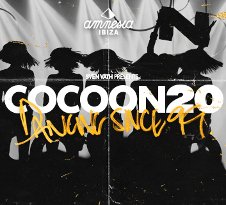 RESERVE VIP TABLE
line up
Terrace

Richie Hawtin
Sven Vath

Club Room

Ilario Alicante
Gaiser (Live!)
Danh Ruh B2B Dorian Paic
infos
Cocoon is still the island's techno treasure with Sven Vath at the helm of this night that is every two Mondays in Amnesia. A solid techno line up is what you have in store with impeccable sound and a few gorgeous Cocoon dancers thrown into the mix. This year Cocoon celebrates 20 years on the island and moves back to its original home Amnesia. This label knows what it is and what it wants to create and that is one amazing party!
Cocoon landed in 1999 after Sven Väth brought the first ever techno and minimal music style to the island. Twenty years later and with a multitude of techno parties to compete with, the godfather of techno continues to lead Cocoon as one of the most popular nights on the island.
Sven Vath is joined by the likes of Ricardo Villalobos, Richie Hawtin, Luciano, Solomun, Seth Troxler, Gaiser, Manu Le Tough, Nastia, Matador, Ame, Adam Beyer, Ida Engberg, Dj Koze, Roman Flügel, Cassy, Nastia, tINI, Peggy Gou, Carl Craig, Kink, Craig Richards, Nina Kraviz, and Ilario Alicante; a night that proves itself again and again as a party with exceptional DJ talent and impeccable music that leaves an audience wanting more week after week at Cocoon Ibiza.
ALL COCOON EVENTS
club info