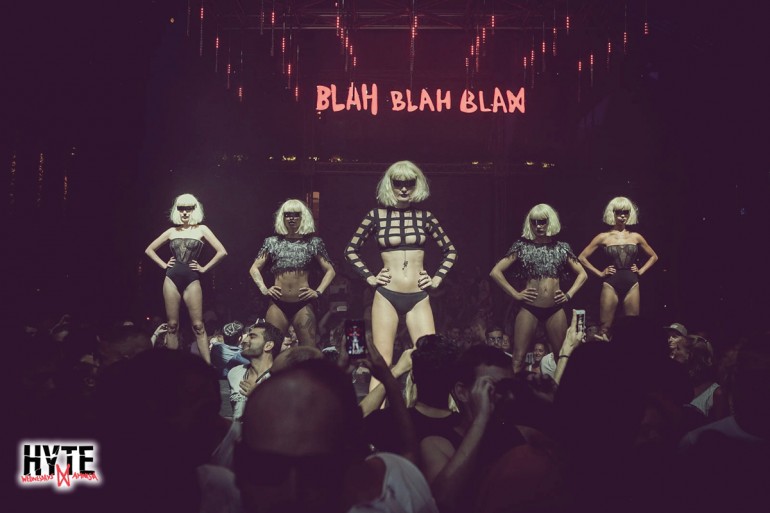 Baseline soldiers stand to attention, the time has finally come for HYTE to release their line up for the summer. The party, that made its debut in Ibiza last summer, made more than a few sound waves after impressing the island with an über cool crew of DJs, dancers and entourage.
The line up is looking as slick as last summer with many of the same HYTE crew returning including Loco Dice who is playing all but three dates, techno boss Chris Liebing and Berlin-based duo Pan-Pot also feature heavily throughout the 16 date residency.
London label FUSE will make their debut in Amnesia Ibiza after main resident Enzo Siragusa has been welcomed into the HYTE fold. FUSE will make four special takeovers on the 13 July, 27 July, 14 September and 28 September. The full line up is below.
More exciting news come in the form of six special after hour parties to be held at Cova Santa on the 1 June, 27 July, 10 August, 17 August and 28 September. Ibiza 2016 club tickets to HYTE at Amnesia can be bought online now. To enquire about a VIP table and hit HYTE in style, get a quote.
Pre-Opening Party 1 June – Terrace: Loco Dice, Henrik Schwarz (live), Cuartero B2B Mar-T / Main Room: Chris Liebing, Pan-Pot, Caleb Calloway
Opening Party 29 June – Terrace: Loco Dice, Robert Hood (as Floorplan), Benny Rodrigues / Main Room: Pan-Pot, Cuartero B2B Mar-T, Chris Liebing (special opening set)
6 July – Terrace: Loco Dice, Guti (live), Dewalta / Main Room: Chris Liebing, Pan-Pot, Gregor Tresher (live), Mar-T B2B Luca Donzelli
13 July – Terrace: Loco Dice, Pan-Pot, Henrik Schwarz (live) / Main Room | FUSE Opening: Enzo Siragusa, Dewalta, Seb Zito B2B Rich Nxt, Rossko B2B Archie Hamilton
20 July – Terrace: Loco Dice, John Talabot, Caribou (special guest – live) / Main Room: Chris Liebing, Robert Hood (as Floorplan), Tobi Neumann,
27 July – Terrace: Loco Dice, Chris Liebing, Bambounou / Main Room (FUSE): Enzo Siragusa B2B Dewalta, Guti (live), Valentino Kanzyani, Seb Zito B2B Rossko
3 August – Terrace: Pan-Pot (all night long) / Main Room | Il Muretto, Chris Liebing, Len Faki, Luigi Madonna, Gianluca Marcati
10 August – Terrace: Loco Dice, Yaya, Caleb Calloway, Maya Jane Coles (special guest) / Main Room: Chris Liebing, DJ Harvey, Benny Rodrigues
17 August – Terrace (FUSE): Enzo Siragusa B2B Seb Zito B2B Rossko, Molly, Loco Dice (special guest) / Main Room: Pan-Pot, Cuartero B2B Mar-T, Luca Donzelli, Chris Liebing (special opening set)
24 August – Terrace: Loco Dice, Premiesku (live), Tobi Neumann B2B Dewalta / Main Room: Chris Liebing, Henrik Schwarz (live), Radio Slave
Wed 31 August – Terrace: Loco Dice, Kenny Dope, Enzo Siragusa / Main Room: Chris Liebing, Pan-Pot, Mar-T
Wed 7 September – Terrace: Pan-Pot, Schwarzmann (Henrik Schwarz & Frank Wiedemann of Âme – live), Cuky / Main Room: Chris Liebing, Cuartero, Dewalta & Shannon (live)
Wed 14 September – Terrace: Loco Dice, Robert Dietz, Dewalta / Main Room | (FUSE): Enzo Siragusa B2B Valentino Kanzyani, Premiesku (live), Seb Zito B2B Ferro
Wed 21 September – Terrace: Loco Dice B2B Kenny Dope (all night long) / Main Room: Chris Liebing, Pan-Pot, Cuartero B2B Mar-T
Wed 28 September – Terrace: Dubfire B2B Chris Liebing, Pan-Pot, Caleb Calloway / Main Room (FUSE Closing): Enzo Siragusa B2B Seb Zito, Rossko B2B Archie Hamilton, Rich Nxt B2B Dan Farserelli
Closing Party 5 October – Terrace: Loco Dice, Enzo Siragusa, Caleb Calloway, Special guest TBA / Main Room: Chris Liebing, Pan-Pot, Cuartero B2B Mar-T, WHO
Comment this Post