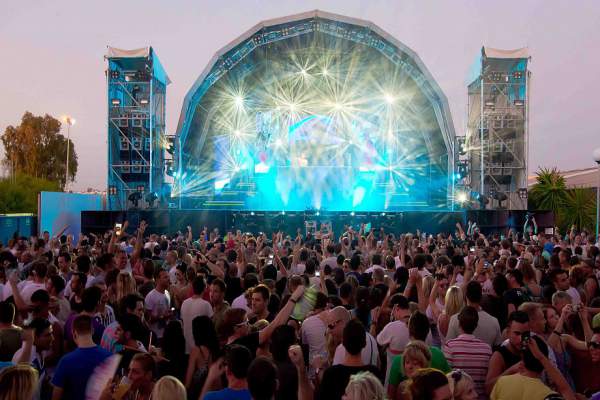 With years living on the White Isle we feel we are somewhat experts to guiding you through the closing parties this season. It goes without saying the closing parties are a true party marathon that some may not survive but one thing is for sure, it is the most spectacular, craziest and happiest time in Ibiza. It's a real time to celebrate and below we discuss the stand out parties that we at Ibiza Disco Ticket suggest you get to.
First up is the party closings, every party is a story in Ibiza with a start, middle and end. The end is nigh and the party closings have already started but a few highlights to note are coming up later this month.
Only Cream can get away with a two part closing party. Head to Amnesia for Cream Closing Part One on the 18th September for Paul Van Dyk and Eddie Halliwell or Cream Closing Part Two on the 25th September with Paul Van Dyk, Aly & Fila B2B John O'Callaghan – both equally two great nights, nothing short of a trance lovers dream.
Paradise Closing at DC10 on the 24th September is a party worth raving at with Jamie Jones, Dixon, Cajmere and more. After another successful season in Ibiza's favourite underground club we're excited to see what tricks Jones' has up his sleeve for his closing party this season.
They've had a fantastic summer this year in Playa D'en Bossa's super-club Sankeys. Viva Warriors closing on the 28th September features Steve Lawler, Detlef and Anek. CAPADI REBELS host the Spektrum with Randall M and friends too so expect quality music, a packed out dance floor and an unforgettable night.
With closings often being some of the busiest parties throughout the whole summer it's worth enquiring about VIP options for the nights you want to go to. It can be really worth booking a table and enjoying the party from the comfort of your own area. Click here to find out more about VIP options.
Defected have enjoyed a long residency in Ibiza Town hot-spot Booom! this summer, hosting the first opening party of the season. Don't miss the Defected closing on the 30th September with Guti, Noir, Nick Curly and more. Head to Ibiza town for some dinner and pre-drinks in one of our favourite places by the Marina – Divino Cafe before dancing the night away at Booom!'s flagship night.
It's a late closing this summer for ENTER. on the 2nd October. Hawtin's party will come to an end with a stellar line up of Richie Hawtin, Marcel Dettman, Gaiser, Tale Of Us, Maya Jane Coles, Nina Kravitz and more. If techno is your thing then get yourself along to Ibiza's infamous clubbing institution, Space Ibiza.
Once the party closings are done then we get to the big dogs and the club closings begin. Do as the Ibiza pros do and book yourself and your friends a villa so you get your own space to relax before the parties or have your own private zone to continue the party at after. Email iospeh@ibizamyholidays.com for the best villa and apartment prices in Ibiza or visit www.ibizamyholidays.com
Now no one could have predicted this swerve ball… Marco Carola 12 hours at Ushuaia closing on the 4th October. The only act all night – enough said.
Despite such a huge booking in Ushuaia on the 4th -Amnesia boasts stiff competition with the likes of Luciano, Maceo Plex, man of the moment Joseph Capriati, Eats Everything, Mar T and many more. It's worth getting there as late as possible because this fiesta won't show any sign of closing up before the afternoon. With an highly energetic and spirited crowd you'll be mad to miss this party at our personal favourite Amnesia Closing on the 4th October.
Be sure to save some energy for the spectacle that is Space Closing Fiesta on the 5th October – one of the two times in the year that the Space Car Park is open featuring some of the best DJs in the world. It's a real special experience and this year will be no different with Deep Dish and a list of DJs longer than your arm. For pre-drinks head next door to Tantra Bar where everyone will be meeting early doors to knock back a few beers before starting the adventure in Space.
If the idea of Space closing is a bit overwhelming for you then the Solomon closing at Pacha on the 5th October is for you. With a special guest TBA, it's always a great idea to start the night off in Ibiza Town at one of the bars in the Marina. Zoo Bar, Tango  and El Chupito  are our top picks for a few cocktails to get in the party mood and then it's a short journey over to Pacha at around 2am for the main event.
This is one closing party you need to get to early. Circo Loco Closing Party at DC10 on the 6th October is always on everyone's to do list – especially the workers and locals who may not have frequented the venue as much as they would have liked this year. As ever, expect an action packed line up of the DC greats with Tanzmann, Squillace, Tania Vulcano and many many more.
It's the last major club closing on the island and the Sankeys closing on the 8th October is always something a bit out there. Previous closings have had a toga theme going straight through for 24 hours. Aside from the usual darlings of Sankeys; Steve Lawler, Darius Syrrosan and Danny Tenaglia, we hear that this year they have very special 'non-Sankeys' guest playing. An act that will blow everyone out of the water!
If Sankeys isn't your thing and you prefer something a bit less dark and underground, head over to the Destino Closing Party on the 8th October. For the most competitive ticket prices for all the closing parties visit www.ibizadiscoticket.com or if you are on the island go to the Ibiza Disco Ticket office in Figueretes (opposite Edificio Lido).
Then that's all folks, time to pack up, go back home to wherever you come from and re-energise for the next seven or eight months and do it all over again next year. Here's to 2015!
Comment this Post