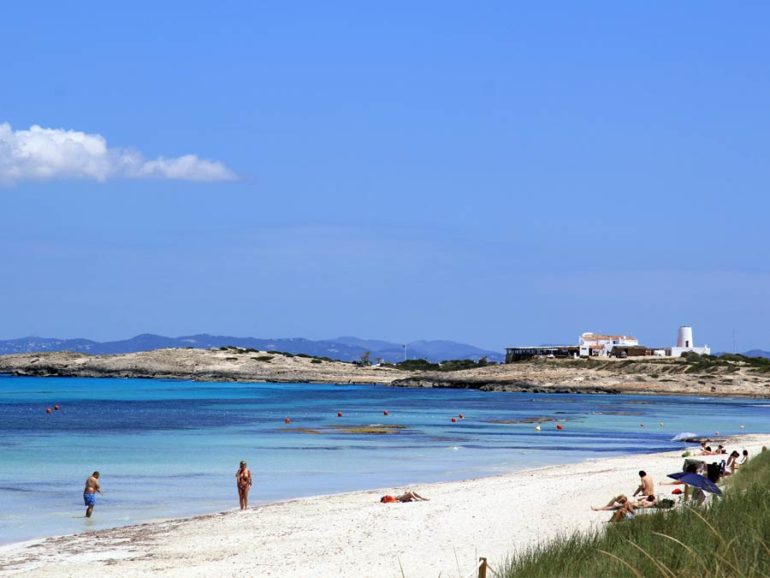 The beautiful beaches of Formentera receive worldwide attention thanks to their white sugar sand beaches and breathtaking scenery. See below for our recommendations on the very best beaches to discover when visiting Formentera!
Es Cavall d'en Borras
Es Cavall d'en Borras is one of the quietest spots on the island of Formentera, and a great place to catch the sun go down beyond the boats. Plus, it is located right next to Beso Beach, which serves amazing refreshing summertime mojitos.
Es Caló
Situated at the bottom of a steep hill leading up to La Mola, there is a small fishing village called Es Caló, with incredible azul waters and mineral rocks that reflect the sunlight. Legend has it that the sandy beach – situated just beyond the harbour – was once used by the Romans. With a handful of boat houses and a beach bars, Es Caló makes for the perfect lazy getaway to indulge and relax.
Playa Sa Roqueta
Popular with nudist and families alike, Playa Sa Roqueta is perfect for those looking for a more secluded beach experience. With an array of small bays and shallow waters, junior explorers can enjoy discovering what nature has to offer in this little slice of paradise.
Playa de Migjorn
This beautiful stretch of beach is peppered with small coves and rocky formations that make it a pleasure to explore. Covering the southern part of the island, it is a lot less crowded given it's located further away for people arriving to the island by boat. Its sparkling white sand and crystalline waters are enough to rival any Caribbean island and are what attracts people looking for that authentic Formentera vibe.
Playa Tanga
This spacious, peaceful beach offers shallow, glittering waters and soft white sand; families can even enjoy a spot of volleyball when the net is set up during the summer. Alternatively, gather to escape the sun and enjoy a long lazy afternoon in La Tanga restaurant, which offers a wide range of specialty seafood dishes as well as freshly made paella.
Comment this Post