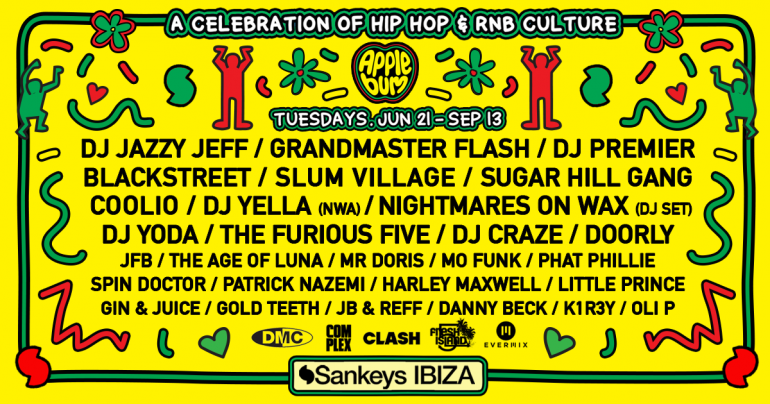 There's only 9 weeks to go until the biggest and best celebration of Hip Hop and R&B culture touches down at Sankeys Ibiza for the first time thanks to UK Hip Hop party brand Applebum.
The full details of their debut, groundbreaking 13-week residency have just been confirmed, and with an array of some of the biggest names in the industry alongside a host of acclaimed resident DJs bringing the ruckus each week, Applebum looks set to make Hip Hop history with the first series of events of its kind on the White Isle.
Running every Tuesday night from June 21stuntil September 13th, Applebum will be bringing a taste of the old school showing Ibiza what Hip Hop is all about.
Kicking things off on the grand opening night of the first ever Hip Hop dedicated club residency on the Island is one of London's most acclaimed turntablists, DJ Yoda. In week two, Applebum welcome the legendary hip hop producer DJ Premier and Nightmares on Wax, a.k.a. DJ EASE.
Get ready to take a journey back to the roots of Hip Hop as Applebum present one of their biggest inspirations, Grandmaster Flash for week 3 with one-half of a double Grammy-award winning duo with The Fresh Prince a.k.a. Will Smith, DJ Jazzy Jeff appearing in week 5.
Grammy-award winners Blackstreet and Coolio also appear on the line up alongsideDJ Yella, Sugarhill Gang and Phat Phillie. See below for full line-up details. Tickets are available online now.
APPLEBUM – SANKEYS IBIZA 2016
WEEK 1 – Tuesday 21st June
DJ Yoda, Mr Doris, Patrick Nazemi, Little Prince, Harley Maxwell, JB & Reff
WEEK 2 – Tuesday 28th June
Dj Premier, Nightmares on Wax, Patrick Nazemi, Harley Maxwell, JB & Reff, Gin & Juice
WEEK 3 – Tuesday 5th July
Grandmaster Flash, Mr Doris, Patrick Nazemi, Harley Maxwell, JB & Reff
WEEK 4 – Tuesday 12th July
DJ Premier, Mo'Funk, Patrick Nazemi, Harley Maxwell, JB & Reff, Gold Teeth
WEEK 5 – Tuesday 19th July
DJ Jazzy Jeff, Mo'Funk, Mr Doris, Patrick Nazemi, Harley Maxwell, JB & Reff
WEEK 6 – Tuesday 26th July
Blackstreet Mo'Funk, Little Prince, Patrick Nazemi, Harley Maxwell, JB & Reff
WEEK 7 – Tuesday 2nd August
DJ Yella, DJ Yoda, Phat Phillie, Mr Doris, Harley Maxwell, JB & Reff
WEEK 8 – Tuesday 9th August
Coolio, Mo'Funk, Mr Doris, Patrick Nazemi, Harley Maxwell, JB & Reff
WEEK 9 – Tuesday 16th August
DJ Yella, DJ Craze, JFB, Killa Kela, Mo'Funk, JB & Reff
WEEK 10 – Tuesday 23rd August
Slum Village, Mo'Funk, Patrick Nazemi, Little Prince, Harley Maxwell, JB & Reff
WEEK 11 – Tuesday 30th August
DJ Yoda, Mr Doris, Mo'Funk, Patrick Nazemi, The Age of Luna, JB & Reff
WEEK 12 – Tuesday 6th September
Sugarhill Gang/Furious Five, Mr Doris, Patrick Nazemi, Harley Maxwell, JB & Reff
WEEK 13 – Tuesday 13th September
SPECIAL GUEST TBC, Nightmares on Wax, Mo'Funk, Patrick Nazemi, Harley Maxwell, JB & Reff
Comment this Post