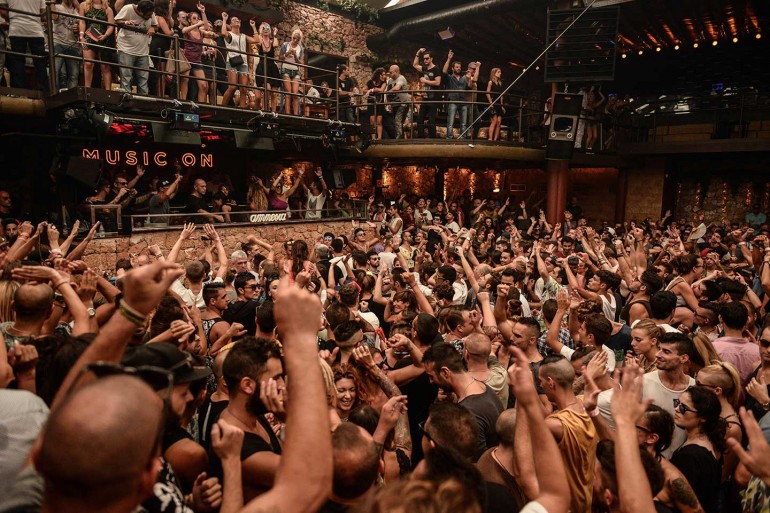 It's the news that many techno fans will have been waiting for, the Music On line up is out! With many promoters teasing us week after week, leaking just a few names at a time to whet our appetite, Italian henchman Marco Carola has smashed out the full line up for 2016 proving Friday nights are going to continue the techno reign in Ibiza.
It's enough that main man Carola features every week on the terrace so feast your eyes on the artists joining him for his fifth year at Amnesia Ibiza this season. A special mention has to go to Apollonia who will play two all night long sessions on the 8th July and 19th August, in fact the French trio feature heavily in the line up this summer along with Paco Osuna, Leon, Stacey Pullen, Neverdogs and Joey Daniel.
Another date for the diary will be the 2nd September with the Martinez Brothers on the terrace and Dubfire in the main room. Down to be a memorable night on the 23rd September is the BPM festival takeover with Apollonia, Paco Osuna, Carlo Lio and Nathan Barato. One name missing off the list is Joseph Capriati that featured so heavily last summer and stood in while Marco was off for two weeks and mashed it. 
This summer, the Amnesia terrace on a Saturday morning is going to be packed with powerful baselines and heavy techno sets from some of the best in the business. It's a party all about the music and it's serious underground techno music. This is going to be a sell out party week after week because the party on everyone's lips for the past five seasons has been Music on and it's not about to change now. Music On Ibiza 2016 tickets can be bought online now.
Opening Party – 3 June Terrace: Marco Carola, Leon / Main Room: Paco Osuna, Stacey Pullen, Joey Daniel
10 June Terrace: Marco Carola, Apollonia / Main Room: Oxia, Paul Ritch, Neverdogs
17 June Terrace: Marco Carola, Paco Osuna / Main Room: Green Velvet, Stacey Pullen, Elio Riso
24 June Terrace: Marco Carola, Leon / Main Room: Miss Kittin, Hector Couto, Neverdogs
1 July Terrace: Marco Carola, Stacey Pullen / Main Room: Paco Osuna, Egbert (live), Fer BR
8 July Terrace: Marco Carola, Neverdogs / Main Room: Apollonia (all night long)
15 July Terrace: Marco Carola, Matthias Tanzmann / Main Room: Hector Couto, Neverdogs, Joey Daniel
22 July Terrace: Marco Carola, Hector Couto / Main Room: Miss Kittin, Oxia, Neverdogs
29 July Terrace: Marco Carola, Apollonia / Main Room: Paco Osuna, Leon, Cirillo
5 August Terrace: Marco Carola, Paco Osuna / Main Room: Marco Carola, Paco Osuna, Elio Riso
12 August Terrace: Marco Carola, More TBA / Main Room: Paco Osuna, Sam Paganini, Neverdogs
19 August Terrace: Marco Carola, Marco Faraone / Main Room: Apollonia (all night long)
26 August Terrace: Marco Carola, D'julz / Main Room: Paco Osuna, Sam Paganini, Joey Daniel
2 September Terrace: Marco Carola, The Martinez Brothers / Main Room: Dubfire, Stacey Pullen, Leon
9 September Terrace: Marco Carola, More TBA / Main Room: Apollonia (all night long)
16 September Terrace: Marco Carola, Marco Faraone / Main Room: Stacey Pullen, Sam Paganini, Joey Daniel
23 September Terrace: Marco Carola, Apollonia / Main Room: Paco Osuna, Carlo Lio B2B Nathan Barato
Closing Party – 30 September Terrace: Marco Carola, Stacey Pullen / Main Room: Miss Kittin, Oxia, Neverdogs, Joey Daniel
Comment this Post