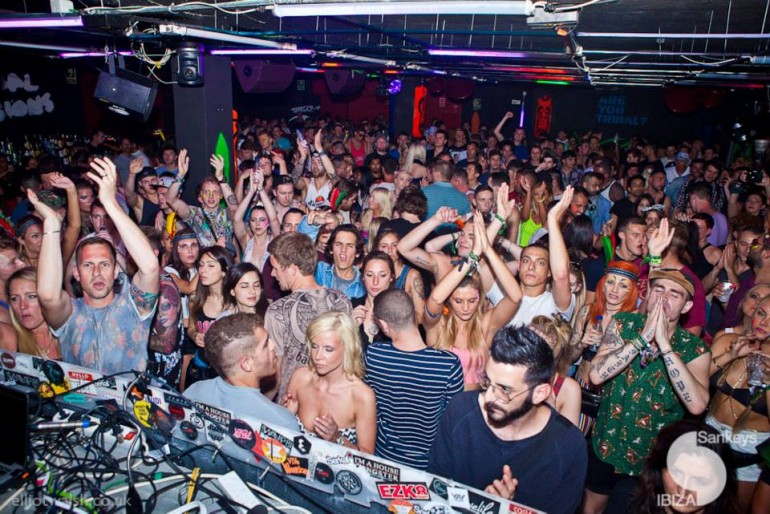 Sankeys Ibiza has always created quite the stir when it comes to opening and closing the club each season and this year was no different. Spread over two days, Sankeys kicked off their third season on the White Isle with a party of two parts. Part one took place on Wednesday 21st May and part 2 the following night launching new residency Tribal Sessions (Wednesdays) as their opening party. Tribal Sessions although a night big in the 2000s had yet to make its debut in Ibiza so we were looking forward to seeing what it was all about.
It's been a long winter so we at Ibiza Disco Ticket were keen to get there for part one and get the openings started as soon as possible. The line up for the night ahead included Tribal legend Danny Tenaglia, resident Darius Syrossian B2B Sidney Charles, Enzo Siragusa, Shlomi Aber, East End Dubs, Recondite (live), Jozef K, Dave Rosario and The Element.
At the beginning of the night Sankeys served up a BBQ on the terrace which was a great idea considering the party was lasting 12 hours with a huge line up and 10 different sets to get through. After our stomachs were lined we headed to the basement to watch Sankeys Manchester resident Jozef K play his set. The venue at this point was getting busier and with people moving down from the terrace, the dance floor was getting nicely filled. Jozef K played a great set and the crowd were full of energy – a good start to his residency for Tribal Sessions this season.
At this point, only the Basement and Terrace were open so we stayed downstairs to listen to our favourite Fuse resident Enzo Siragusa play his unique dub-house sound to a spirited crowd. As ever in Sankeys the bass was turned up to the maximum, standard-floor-shaking-roof-holding-on-for-dear-life-style. The dark lighting and low ceilings make it the perfect conditions to listen to Siragusa's 'fusic' sound and the atmosphere was electric. The party was only getting started.
With more and more people turning up, the Basement was getting pretty full so we moved into the LAB to check out Danny Tenaglia who was playing a monstrous 6 hour set. The legendary DJ has definitely played in his fair share of music venues globally but he was clearly enjoying his set among the fans, playing an energetic and aggressive set, exactly what we expected and needed at that time of the night.
The Spektrum room in Sankeys had undergone a few improvements with a new lighting system making the room much more inviting and although wasn't exactly packed out all night it was a refreshing break from the basement which was heaving. A little after 4am it was time to call it a night and preserve some energy for the rest of the opening parties. The party was still going off, we had a feeling a lot of the crowd wouldn't be hanging up their dancing shoes until way after sunrise.
So that was just Part 1 of the Sankeys opening party. The following day Steve Lawler was headlining with Hot Since 82, Amine Edge & DANCE, Andrea Oliver, Finnebassen, The Element and Marina Karamarko.
The next Tribal Sessions will take place on Wednesday 28th May, another 12 hour party starting at 6pm with Mr Darius Syrossain playing a sunset session on the terrace each week. There's a lot of Tribal fever around Playa D'en Bossa at the moment so we're guessing Tribal Sessions this season will be just as popular at the opening. We'll wait and find out.
Comment this Post