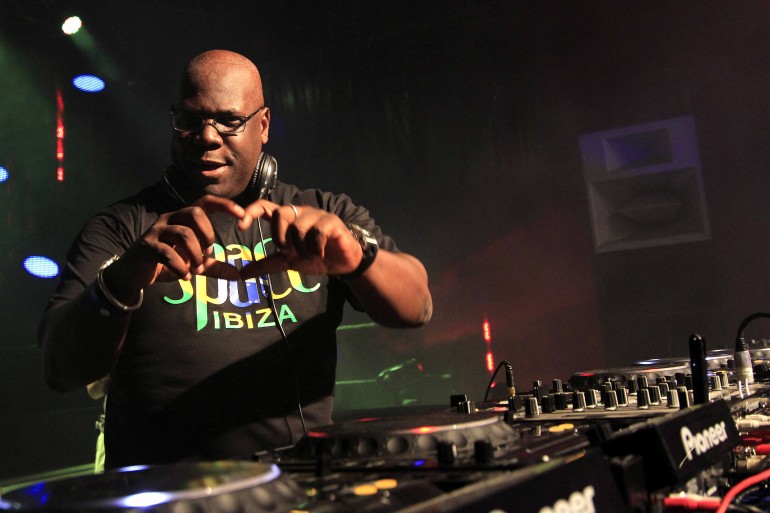 When one hears the word Space, one thinks of the electronic music sanctuary filled with multiple rooms, fit with funktion 1 speakers and the best DJs in the world…no? Space in Ibiza, is iconic. It's a temple. It's everything. It's been dubbed, "The world's best club" too many times to count, any DJ that matters has mixed on those decks, and it has been running since 1989; that is epic. 
One of the last big openings of the summer season, has finally had its time. Carl Cox's Music is Revolution party, themed The Next Phase had its go this past Tuesday. As soon as it's blue and red coloured flyers were seen all over the white isle, anticipation started brewing. Music is Revolution has such a history, it takes over everything in a unique way. Maybe it's because Coxy himself is such a legend, maybe it's because the party is now in its 14th season, or maybe it's just because Music is Revolution brings great music and good vibes. 
Just like all of his previous line-ups, the opening party brought big names. Adam Beyer, Ida Engberg, Umek, Uner and Coyu were all in the house. Javi Row, Coco Cole, Nik Halkes and many more were also gracing us with their talent. Of course Coxy would be showing himself later in the evening to close it down, but earlier he had played a surprise show on the terrace to give everyone a flavor of what was to come. It was sure to be an unforgettable night. 
I arrived to Playa D'en Bossa, which is home to the legendary club, lined up and got wrist banded. I double-checked the set times, and headed into the main room to check out techno's most bad ass couple, Adam Beyer and Ida Engberg to be throwing down their usual techno. They dropped monster tracks Proper Motion by Rick Sanders, and Adam's own Stone Flower that had everyone in a dancing frenzy. The main room was packed, and such a beautiful sight to see as ice canons blew into the middle of the crowd while neon lasers hit from every angle. It's always great to see Adam and Ida together behind the decks, as when they mix back to back with one another, it's a special time. 
Uner is a must to see, so I headed over to the terrace to catch his set. His mixing and productions are always top notch, and he is at the top of his game right now. He's also one to lay down some serious techno but he was getting groovy with it and dropped the eerie Art Department track, Catch You By Surprise, which had everyone getting lost in its vocals. 
Umek back to back with Coyu were on next, and when they stepped up to the mixer, they brought up the tempo a little more and injected some fire once again into the terrace. Both of them could be seen high fiving and smiling as they dropped hit after hit, and once they mixed in  It's About The Music produced by Doorly & Dajae the vibe in the room went to another level. 
With the main rooms packed, I decided to wander the corridors and see what else was kicking in the electronic music complex. El Salon had Chris Halkes playing some old 70's disco that had everyone boogying. Premiere Etage was featuring Baum, and when I made it up to the terrace some slow, techy vibes were being delivered. Adding the sunset terrace into my Space lap I found myself once again getting down to some disco being mixed by DJ Callum; such variety outside the main rooms. 
3am had hit and it's as if you could feel the bodies around you all moving to the main room as if a bomb was coming, and it was. Energy and anticipation was climbing, Carl Cox was about to spin. I somehow weaved and interlaced my way to a good dancing spot, and saw Coxy exchanging hugs with Adam and Ida and then stepped up to the decks to a huge applause and picture phones going off like crazy. OH YES OH YES it was that time. 
Seeing Coxy spin is incomparable to anyone else, he's just got it. Between interacting and MCing to the crowd, to dancing to his own beats, to fist pumping with everyone up in the booth with him; Music Is Revolution opening party had kicked into 3rd gear. Everyone in the main room was completely hyped when he dropped Final Shakedown by Groove Armada, a track loved by all, while the techno and techhouse just kept rolling. 
If tonight was a glimpse of what's to come, we can take a stab at it and say that Music is Revolution : The Next Phase is going to have a killer 14th season, no doubt. 
To purchase tickets, click here. 
Comment this Post