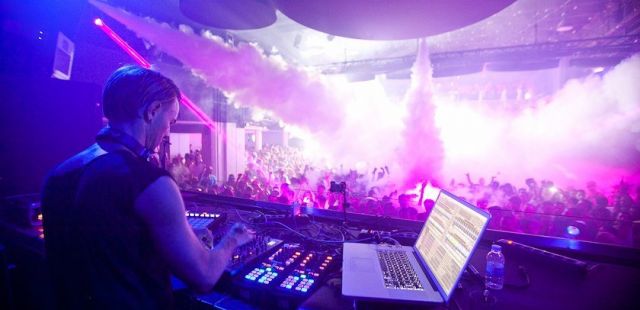 It's not often that when you think of one word, it rouses your thoughts to a special experience, a feeling, or a time. The way they say that the sense of smell is closely linked with memory, or that a complex emotion can be triggered by a simple sensory cue…this is kind of what the ENTER. experience is like.  ENTER., was an experimental event launched in Space Ibiza by innovator Richie Hawtin back in 2012 and has since grown massively. In its wholeness, it is here to connect music, technology, Japanese sake, art, entertainment and design. When we think ENTER., reminiscent vibes of darkness and techno come to mind…
ENTER.'s bill for the summer season in Ibiza is amassed with some of the biggest and darkest names in electronic music. We say dark, because there will be no shortage of dark permeating techno if you decide to step into the experience at Space every Thursday this season. For it's opening party on Thursday, July 1st we were treated to the dark and deep sounds of Bella Saris, Guy Gerber, Hito, Recondite, Gaiser, boss man Richie Hawtin, Tale of Us, Blind Observatory and more.
When I arrived to the front of Space, it was as if there was an army platoon waiting to charge the club to get inside. A sea of people dressed head to toe in ENTER.'s trademark color : black were seen everywhere. I decided to check out the terrace as my first plan of action, as the Sake lounge was absolutely slammed grooving to the sounds of Guy Gerber and Matthew Dear. Hawtin's Australian recruit, Bella Sarris was warming things up with a tranquil vibe coming from her beats, and the harder she began to play, the more packed the terrace got. As I felt the rise in her bpm, I looked around at the production that ENTER., had completed, and there is no doubt the high level of creativity that goes into each and every ENTER. experience.
Wanting to check out the Sake room, as it is such a unique addition to the ENTER. concept, I weaved my way through the Space corridors so I could check out the chic Hito and made it back as she was setting up. The room itself makes you feel like you are somewhere else; black netting hanging from the ceiling, mist and fog in the air, and Hito's ambient, minimal beats finding their way to my ears. Hito's beats and the Sake room vibe together is the perfect retreat when you don't want to be amidst the chaos of the main room and terrace. 
It was time to check out Recondite back in the terrace, and as we arrived the DJ was really getting into it, getting creative with his sounds and placing a spell over his crowd. A DJ set can be taken to such a different level when a DJ plays live. So many artists and not enough time, I then headed back over to the main room to check out Gaiser going at it, also live from the decks and getting all of his techno troops stomping out the floor. 
Gaiser created a dark, pulsating energy as he dropped some untraceable tracks, and also some tracks off his newest album, False Light. His hard-hitting bass lines and ominous techno filled the room and really was reminiscent of that 'enter vibe'. He weaved through his set relentlessly and delivered hard techno to the people and created a dance floor militia like vibe out on the dance floor.
The two most anticipated sets of the night, respectively belonging to Tale of Us and main man Richie Hawtin, were to start now. ENTER, by now was in full swing, and it's revellers were begging to be destroyed by it's raw techno and thundering bass lines. It was now 3am, so back to the terrace and then main room to finish the night. 
Tale of Us can do no wrong, the Italian duo had the walls vibrating with their track selections and transformed Space's terrace into a techno abyss, or a playground for themselves. Darkness had swallowed the room, with cuts of blue and green lasers lighting up bodies everywhere. As usual, the artists dropped unrelenting techno but added a touch of melodic ambient bass that we all love so much. 
Switch back to main room, where the legendary Richie Hawtin had stepped up to plate. The energy in the room was apparent, the strobes going off, ice canons shooting and the vibe and music was rocking! The Richie we all know and love had taken the reins of the club and unleashed; gracing all ENTER. attendees with an outstanding  set. The techno king transformed the room once again and many special moments were had. It was good to have Richie back.  
The entire ENTER. Experience was a fusion of so many talented artists and music. The concept and production added with the high quality of music, makes it unlike anything else in Ibiza. ENTER. is a must if you are making your way to the White Isle. 
For tickets click here. 
Comment this Post