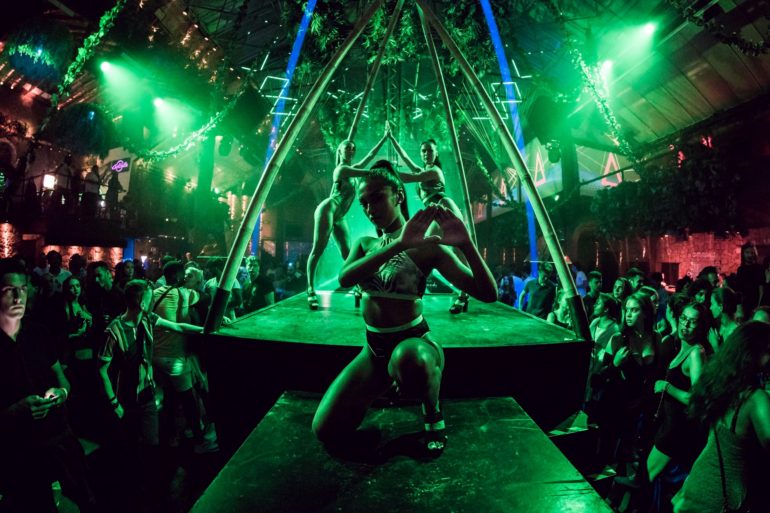 Another day, another closing party! The calibre is high this year, with many events pulling out all the stops with international headliners and show-stopping productions. We've completed our second round-up of absolute musts if you are here on the island.
Pyramid Closing Party in association with Sunwaves Festival, Amnesia, 23rd September 
Following a successful penultimate fiesta in association with MDRNTY, underground party Pyramid will be bidding farewell to its second Ibiza season in collaboration with Sunwaves Festival. With a combination of ever-emerging talents from Romania and Ibiza veteran Villalobos, expect nothing less than fireworks on the dance floor as the team see out another successful residency at the superclub. Also featuring Nina Kraviz, Paco Osuna and Cuartero B2B Mar T.
BODYWORKS Closing, Hi, 24th September 
After a hugely successful 2019 residency, the three giants of the underground – CamelPhat, Solardo and FISHER – will be taking guests on a BODYWORKS  journey for the last time on Tuesday 24th September. The collective has become hot property this year celebrating success in the underground electronic music scene each and every week at Hi Ibiza. The closing will see a guest appearance from Fuse founder and underground powerhouse Enzo Siragusa. Arrive early to avoid the queues!
DJ EZ Elusive Pool Closing Party, Ibiza Rocks, 26th September   
Widely considered one of the most influential names in underground dance culture, DJ EZ  has continued to astound this season with his epic live performances, many of which have become instant social media hits. A pioneer of UK garage, house and bassline, his trademark sets of ultra-fast mixing of anthems alongside deep cuts have lit up Ibiza Rocks to an audience of die-hard fans. Expect nothing less for the closing, during which DJ EZ is bound to have something fresh up his sleeve, as always.
Ants Closing, Ushuaia, 28th September 
The ever-growing colony of Ants will be waving goodbye to its best season yet on Saturday 28th September. The daytime poolside party is one of the true success stories for both Ushuaia and Playa Den Bossa, as it continues to attract fans from all over the island and has become truly respected in the underground scene. The closing party line up – as ever – presents a roster of true talent, including Andrea Oliva, Dublin, Francisco Allendes, Joris Voorn, Solardo and Steve Lawler.
elrow Ibiza Closing Party | Kaos Garden, Amnesia, 28th September 
Once you have finished up at Ants, head over to closing party spectacular el row as it finishes its reign at Amnesia with a night of pure Kaos. Following a whole season of showstopping events, each one based on an altogether eccentric topic, the Closing Party will be held at the crazy, colourful KAOS GARDEN, curated by the artist Okuda San Miguel. Paco Osuna will be the master of ceremony with a five-hour set on the terrace, during which he will introduce a world of angels and demons and lead us to paradise dancing till the very end and final judgment. Dont Miss This One!
To purchase or reserve tickets to any of the events click here. To inquire about VIP tables, click here or email vip@ibizadiscoticket.com for further information.
Comment this Post