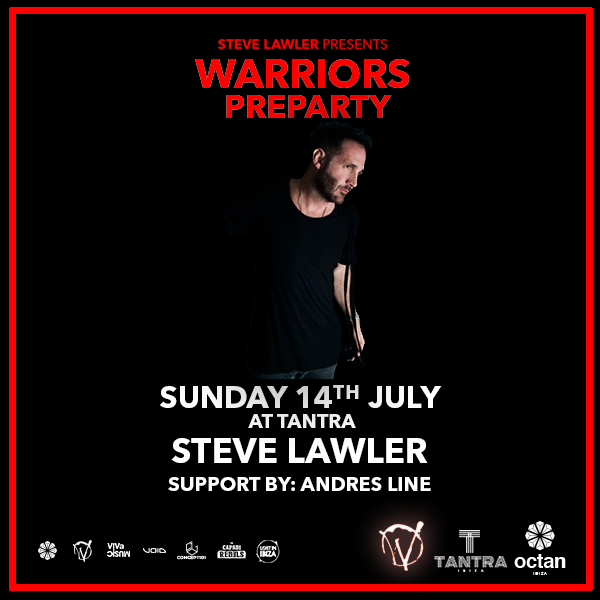 Following the explosive opening party last week,
Steve Lawler i
s back at
Octan Ibiza
for week two, with a very special warm-up pre-party at the iconic
Tantra Ibiza
. The pre-party will kick off at 23:00 – entry is free and Tantra Ibiza provides the perfect, intimate venue to warm up and get close and personal as Lawler plays an exclusive set ahead Warriors at Octan.
Joining the legendary Lawler on the decks this week at Octan will be
Darius Syrossian, ANOTR, Ejeca
and
Remelie. 
Yousef, Leon, Cassy, East End Dubs, plus more will join the carefully curated roster this summer sure to help the night regain its crown as one of the finest in the Balearics. Octan's Basement is a perfectly underground space that has a raw, intense energy and has provided Warriors with some of the finest moments in Ibiza's history before now. Warriors heads down its own unique path and brings something different to the party capital of the world as well as real excitement for the next generation.
Over the years, Warriors has built up a cult following of hardcore fans who appreciate the unique atmosphere the Warriors parties became famous for, and of course the tasteful DJs who soundtrack each event on the mighty sound system that fills the basement from pillar to post. Now under new ownership, the Basement's flame has been relit and it promises to be returned to its former glory.
"It's hard to explain why, but Warriors became iconic and very quickly" enthuses Steve. "The atmosphere we created in that room was so special, there was such a close connection between the DJs and the crowd that it quickly gained something of a cult following. Don't get me wrong, I love playing the bigger clubs, the bigger stages, but i also love variety, and I'm a firm believer that one can not and should not exist without the other. The intimacy of Octan is perfect for giving not only me but everyone else that variety, giving people more choice is key to Ibiza's survival and just what Ibiza needs, and I just can't wait to get back into that basement. Those who know, KNOW!"
Entrance to the pre-party at
Tantra Ibiza
is free and the party starts at 23:00.
For tickets to Warriors at Octan click
here.
Comment this Post