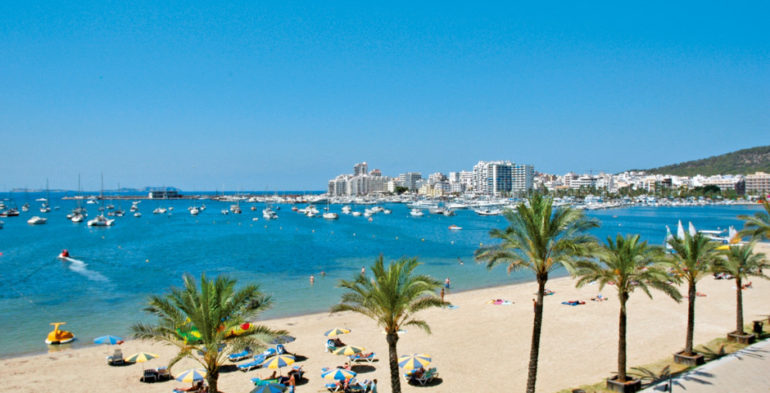 San Antonio Bay, based in the North West of Ibiza, is known for its legendary sunset and lively atmosphere. With so many beautiful surrounding areas, San Antonio Bay is popular with residents and tourists alike and makes the ideal location to stop off and visit. So whether it's sipping on a sundowner cocktail or a family picnic in a hidden cove, here's a quick guide of what to check out if you're in the area:
BEACHES: Cala Saladeta
Just 5KM North of San Antonio you will find beautiful hidden gem Cala Saladeta, offering a more quiet and secluded beach experience than the main stretches in the centre. Navigating over the rocks to the beach can be a slight challenge, but well worth it given the turquoise seas and amazing snorkelling conditions. An ideal spot for catching the sunset, this getaway is perfect for those looking to escape the crowds and embrace tranquillity.
BARS/RESTAURANTS: El Chiringuito
For a charming little beach bar and restaurant, visit El Chiringuito located in Cala Gracio's sister beach Cala Gracioneta. Equally as intimate and just as idyllic, this location provides the ideal backdrop at which to enjoy a cocktail over sunset or a deliciously fresh paella or seafood platter.
Situated on the cliff top in Can Negret, just 3KM from San Antonio centre, you will find a Mediterranean sanctuary, serving up exceptional cuisine with chilled sunset vibes and Balearic house. Choose to dine al fresco under the stars or enjoy the rustic décor on offer inside. Dishes are meticulously curated by Argentinian chef; choose from fresh salmon and avocado for breakfast, or seabass with an Asian twist for dinner. Any time of the day, you are sure to be in for a culinary delight.
NIGHTLIFE: Rio Ibiza 
Enjoy some rooftop cocktails or dine under the stars at the trendiest spot in town! Rio Ibiza is a funky restaurant, bar, lounge and club on San Antonio's seafront promenade, popular with locals and tourists alike, its wide varied menu features both Mediterranean classics and international cuisine. Open all year and facing the idyllic backdrop of San Antonio harbour, this multi-level venue is conveniently located just a stone's throw from the famous Sunset Strip, making it the perfect post-show stop off.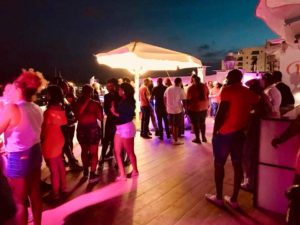 Eden
Open since 1999 in Ibiza, San Antonio, Eden is hotspot in which many clubbers come to experience the party lifestyle of Ibiza. Eden is a large-capacity nightclub and has played host to some of the most prolific stars in the industry, such as Pete Tong and Fatboy Slim, and has recently been reconstructed to serve music lovers in the best possible way. With a booming sound system and new interiors, Eden has well and truly made its mark on the San Antonio nightlife scene, delivering quality underground house and tech on a superclub level.
Comment this Post