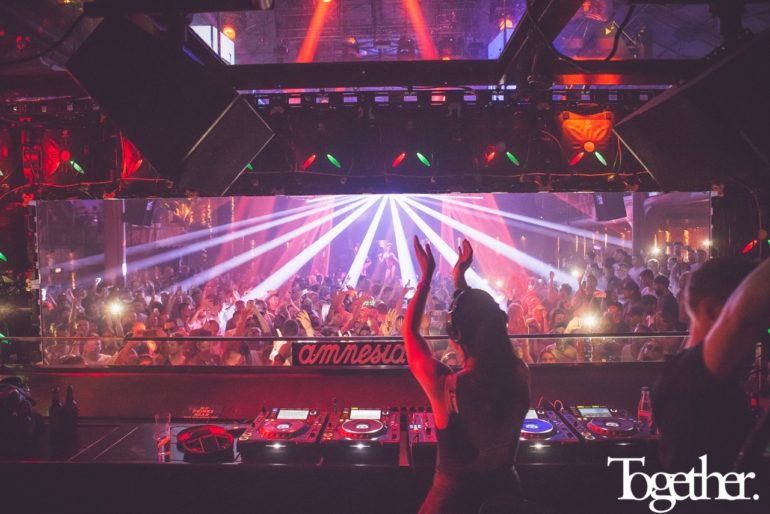 This summer Together is back in Amnesia Ibiza taking over the Tuesday spot once again with it's packed out parties. With a mix of established heavyweights to future superstars, you can expect some of the most prolific and in-demand artists to pledge their allegiance to Together in Ibiza.
The party is all about bad-ass basslines, breakbeats and an eclectic mix of house music with a massive line up performing every single week this season. Chase & Status, Rudimental and Sigma are heading up the main room in Amnesia with Hannah Wants, Gorgon City, Duke Dumont, Disciples and Claptone appearing on the famous Terrace.
Together certainly have a few tricks up their sleeve with special guests MK set to play, a world exclusive of Rudimental b2b with Gorgon City and performances from the likes of the famous faces of the Together glitterati including Andy C, Netsky, Pendulum DJ set, Sub Focus and Wilkinson to name just a few.
The Tuesday phenomenon in Amnesia will open on 6th June for a huge sixteen-date residency until the 19th September. The full line up can be seen below. For tickets to Together at Amnesia click here and for a quote on a VIP table message us.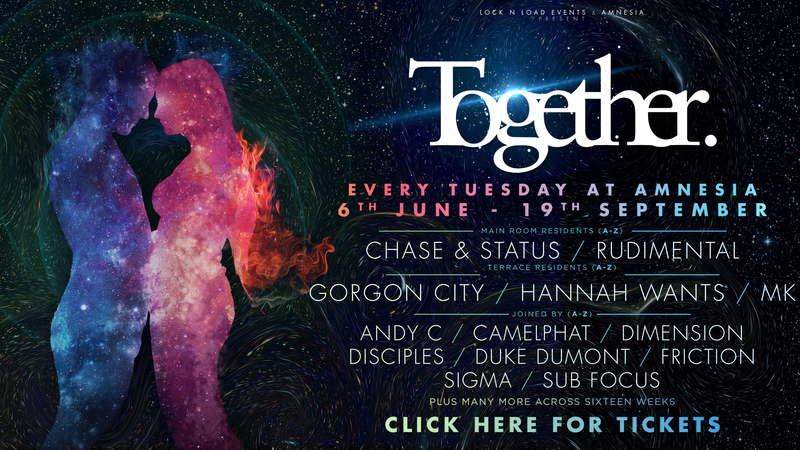 6TH JUNE (OPENING PARTY) MAIN ROOM – CHASE & STATUS, ANDY C, PENDULUM, FRICTION / TERRACE – GORGON CITY, HANNAH WANTS, CLAPTONE, VERY SPECIAL GUEST: TBC
13TH JUNE MAIN ROOM – RUDIMENTAL, SIGMA, WILKINSON, MY NU LENG / TERRACE / HANNAH WANTS, DISCIPLES, VERY SPECIAL GUEST: MK
20TH JUNE MAIN ROOM – SIGMA, WILKINSON, HIGH CONTRAST, VERY SPECIAL GUEST: HYPE & HAZARD / TERRACE – RUDIMENTAL B2B GORGON CITY  – WORLD EXCLUSIVE!, DISCIPLES, CAMELPHAT, HECTOR COUTO
27TH JUNE MAIN ROOM – CHASE & STATUS, ANDY C, NETSKY, TBC / TERRACE – GORGON CITY, CLAPTONE, MISTAJAM, VERY SPECIAL GUEST: MK
4TH JULY MAIN ROOM – CHASE & STATUS, SUB FOCUS, PENDULUM / TERRACE – DUKE DUMONT, DISCIPLES, CHRIS LORENZO, VERY SPECIAL GUEST: CLAPTONE
11TH JULY MAIN ROOM, RUDIMENTAL, ANDY C, PENDULUM, TBC / TERRACE – HANNAH WANTS, DISCIPLES, CAMELPHAT, VERY SPECIAL GUEST: DUKE DUMONT
18TH JULY MAIN ROOM – RUDIMENTAL, SUB FOCUS, MAK & PASTEMAN / TERRACE – MK, DUKE DUMONT, CHRIS LORENZO, TBC
25TH JULY MAIN ROOM – CHASE & STATUS, SUB FOCUS, DIMENSION, TBC / TERRACE – HANNAH WANTS, REST TBC, VERY SPECIAL GUEST: DUKE DUMONT
1ST AUGUST MAIN ROOM – RUDIMENTAL, WILKINSON, FRICTION / TERRACE – GORGON CITY, HANNAH WANTS, HECTOR COUTO, VERY SPECIAL GUEST: CLAPTONE
8TH AUGUST MAIN ROOM – CHASE & STATUS, SIGMA, NETSKY, DIMENSION / TERRACE – MK, DUKE DUMONT, TBC, VERY SPECIAL GUEST: DISCIPLES
15TH AUGUST MAIN ROOM – CHASE & STATUS, SUB FOCUS, PENDULUM / TERRACE – GORGON CITY, HANNAH WANTS, CAMELPHAT, VERY SPECIAL GUEST: MK
22ND AUGUST MAIN ROOM – CHASE & STATUS, SIGMA, DIMENSION, TBC / TERRACE – GORGON CITY, CLAPTONE, MISTAJAM, VERY SPECIAL GUEST: DUKE DUMONT
29TH AUGUST (Together Turns Seven) MAIN ROOM – CHASE & STATUS, SUB FOCUS, REST TBC / TERRACE – GORGON CITY, HANNAH WANTS, HECTOR COUTO, VERY SPECIAL GUEST: TBC
5TH SEPTEMBER MAIN ROOM – CHASE & STATUS, ANDY C, PENDULUM, FRICTION / TERRACE – HANNAH WANTS, DISCIPLES, MISTAJAM, VERY SPECIAL GUEST: MK
12TH SEPTEMBER MAIN ROOM – RUDIMENTAL, SIGMA, WILKINSON, MY NU LENG /  TERRACE – GORGON CITY, TBC, CAMELPHAT, REDLIGHT
19TH SEPTEMBER MAIN ROOM – CHASE & STATUS, ANDY C, SUB FOCUS, DIMENSION / TERRACE – HANNAH WANTS, DISCIPLES, HECTOR COUTO, VERY SPECIAL GUEST: MK
Comment this Post