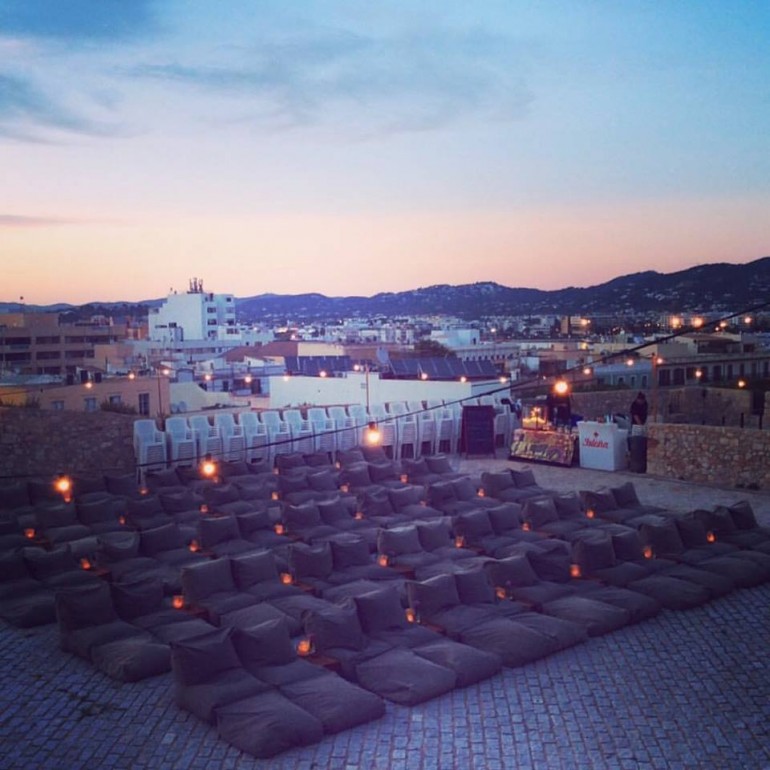 This summer Cinema Paradiso, Ibiza's original outdoor cinema, returns to Ibiza Old Town to host a series of unmissable events within the UNESCO world heritage site. Back by popular demand, Cinema Paradiso has been granted special permission to hold their signature style of movie nights, in Baluarte de Sant Pere, an intimate corner of D'alt Vila, throughout the summer season.
Formerly known as Lime in the Coconut, Cinema Paradiso launches into their third season with 16 shows, including classics such as The Godfather and Scarface, cult film The Big Lebowski and recent titles such as Trumbo and the art house masterpiece Victoria. Chosen by The Independent, as one of 'The Big Six' most beautiful outdoor cinemas in the world, Cinema Paradiso has created unforgettable cinema experiences at public beaches, within the courtyard of a 16th century monastery, multiple beach clubs, and at a number of the most exclusive villas on the island.
Self-confessed movie lovers Joachim and Alexandra Rens dreamed of creating The Ultimate Cinema Experience with their outdoor cinema, and this summer's programme is set to be the jewel in the crown. Guided into the old city walls by softly lit candles and lanterns, guests will be invited to lounge on custom made bean beds, soak in the stunning atmosphere and scenery, order fresh food, and drink icy cold Isleña beers, before watching the perfect film under the moonlight, with the silhouette of D'alt Vila as the backdrop. Tickets are expected to sell-out early with each screening limited to 70 people and priced at just €16,-.
Co-founder, Alexandra Rens says, "Confirming a full season of events within D'alt Vila is a real accolade and testament to the success of our previous shows here, and at other locations across the island. Our mission is always to create The Ultimate Cinema Experience, whether that is within the infamous Old City Walls or in the privacy of a luxury villa. On an island famed for partying, we create intimate and exclusive events, paying attention to every little detail, and complete with food and drinks, to ensure each Cinema Paradiso event is an unforgettable experience."
For a more intimate film affair, the cinema experts will deliver their special movie experience to private villas. Within an hour, Cinema Paradiso will transform a secluded terrace, poolside, or tranquil garden into a luxury outdoor cinema, with a huge screen and sound system, seating, furnishings, candles, blankets and, of course popcorn. Perfect for a romantic evening under the moonlight, or a break from partying with friends; Cinema Paradiso private screenings are the ultimate in laid back luxury on the White Isle.
Tickets for D'alt Vila screenings are available on www.cinemaparadisoibiza.com. Tickets are priced at €16 and include one individual bean bag, popcorn and an Isleña beer (the beer of Ibiza) or a soft drink of choice. A selection of gourmet food and drink packages are available to add to The Ultimate Cinema Experience (see below). For information on private cinema screenings please contact info@cinemaparadisoibiza.com or have a look on the website.
Private Cinema prices start at €350,- for small and large groups alike. Food packages for Private Cinema include hamburgers, hotdogs and quesadillas or salads as a vegetarian alternative. All other bespoke catering requests can be arranged.
Program Baluard de Sant Pere
21/07 The Walk
28/07 Scarface
11/08 The Big Short
18/08 Reservoir Dogs
25/08 The Godfather
01/09 Whiplash
15/09 Trumbo
22/09 The Big Lebowski
29/09 El Mariachi
Comment this Post