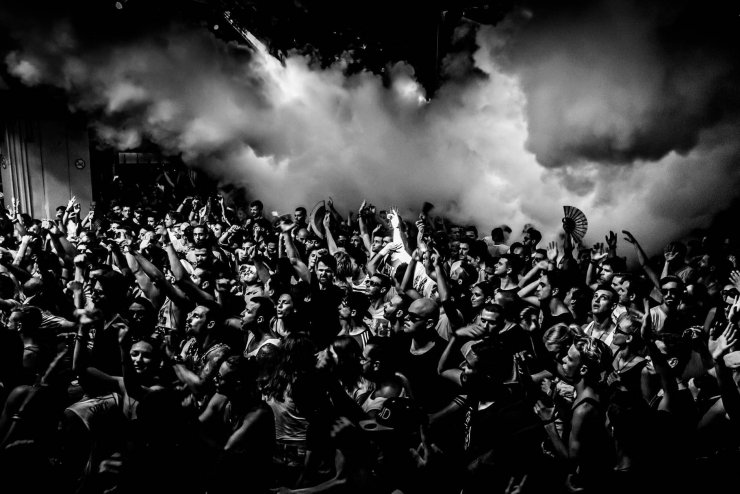 Goodbye ENTER. hello Afterlife! Taking over ENTER. on Thursday nights with Richie Hawtin at Space Ibiza, this year sees the birth of a new seductive techno that myself and many others have been anticipating. An "after life" is a topic we have all spoken about at least once in our lives, taking this theme into realms of music, an expectation is that it will connect and transport us above and beyond the physical.
The Italian duo, Tale of us, will be the Afterlife captain's of this techno ship, and throughout the summer, Tale of us and other masterly DJ's from the likes of Life and Death and Innervisions will be taking us over waves of deep and rhythmic beats. Eager about the opening, I decided to see the whole night from start to finish. Arriving before 12pm, I was surprised at how many people had made this decision too.
At this time the Sunset terrace is the only room open as you enter the club, and is standardly a warm up for the nights' events, to warm up your limbs to the sets of Woo York and Confidns. Stripped back simplicity is a reoccurring theme when it comes to techno nights, and there isn't anything flamboyant or colourful about the décor at Afterlife. The symbolic "diving man", is the Afterlife logo, and when the doors to main Terrace opened, a huge mannequin hung from the ceiling, looking down on the night's devotees.
Ryan James Ford was first up in the terrace, and with the crowd now spilling into two rooms, the club felt a little empty. However, it wasn't long until the numbers doubled and tripled, the Terraza gradually becoming an intimate experience, groups of stereotypical techno boys and girls standing their ground and establishing their territory, preparing to stay very much in the same place for the night's headliners.
Mind Against now taking over from Ryan James Ford, this is where the excitement surfaced. Minimal and engaging, time flies when you're in a techno bubble. The dark and moody lighting in the Terraza made a match for the rolling and continuous energy from the rumbles of Mind Against's set. Unable to move due to the next DJ being the one and only Recondite, a German musician, techno producer, label owner and sound artist, this man has touched the hearts of many with his mediative techno, and his reputation for adapting to the prevailing mood of his audience.
Keeping his set ambient and minimal, I was a little disheartened that songs like "Jaded" and "Sultry" didn't make the cut, but his set flowed in and out with tracks like "Osa"  keeping everyone's eyes shut and tuned in. With only 2 hours left until the night draws to a close, the greatly anticipated Tale Of Us prepared to take over and take down. It seemed like non dared move, and space was becoming limited but the music united us progressively as their set grew bigger and bolder, making a milkshake of the crowd, drop after drop the response intensified, with track after track signalling the smartphones out, to record for the next days' reflections.
With spirits high and the atmosphere cool and attentive, Tale of us drops "nana" by Acid Pauli to shift the two step marches into a swayful breather, that had necks bending backwards, eyes closing and ears hooked. From start to finish, the opening was as excepted, a perfect concoction of cool and collected techno fans, carried by the night's music to make them leave and await their return next week. For tickets to Afterlife at Space Ibiza this summer click here. If you like your parties with a little more VIP, message us for a quote.
Comment this Post