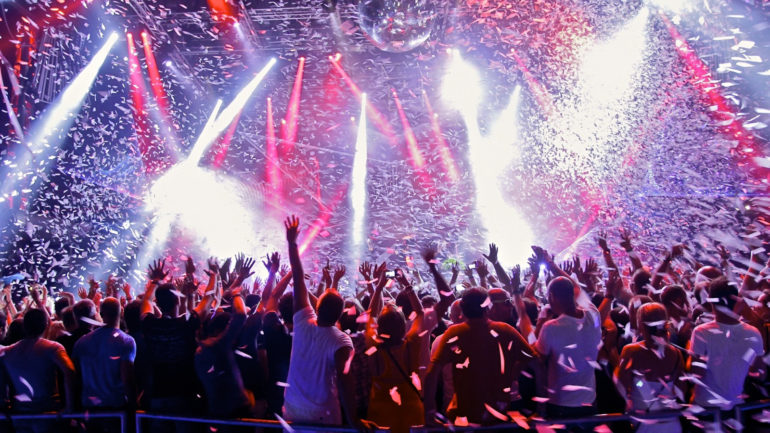 With the first club now officially open, we wanted to kick off the season with a few updates from the 2018 party calendar.  So here's our roundup of news…and it looks set to be a good one!
Following its hotly anticipated refurbishment, Pacha officially opened its doors this weekend, wowing crowds not only with a hot and glamorous new look, but with night-long sets from hot since 82 and Sven Vath. Coming weeks will see heavyweights Fatboy Slim, Dixon, Seth Troxler and Solomon take centre stage. The refurb – which has set about reforming the famous club's original features – has brought with it some new and exciting changes, not least of all the appearance of Cocoon, which will move its legendary techno bash from Amnesia to Pacha in a monumental move that has shocked many.
Quite a few changes for the superclub this season; Monday nights will see brand new party Pyramid take the stage, promising to take party-goers back to the vibe of the original dancefloor, combining organic décor with hi-tech lighting shows that promise to be spectacular. Other additions to the club include ABODE & Do Not Sleep, who will be sharing Thursday nights with a joint residency kicking off on the 14th June. Firm favourites Together, Music On and ElRow will be returning to their usual slots, promising to deliver more of what makes the crowd go wild.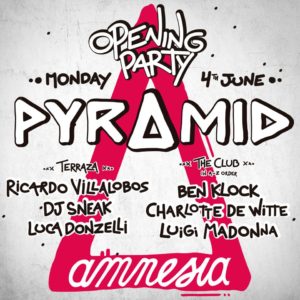 Bossa's outdoor daytime venue has announced a brand new party to its roster for Fridays; DYSTōPIA. The new concept will focus on providing a festival experience that is dedicated to music, art and self-expression. The party has promised to deliver more than just DJs and music; the daytime extravaganza will invite guests to navigate their way through its doors like never before; special features include chill-out areas, an adult playground, healing zones and a pop-up market. Live performances and art collections will ensure guests are fully immersed and kept entertained throughout.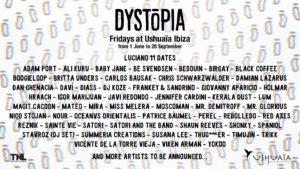 Following its successful launch last year, Hi will be returning with the addition of one of the Island's most classic parties to its listings. With more than two decades of parties in Ibiza, Cream Ibiza has announced its relocation to Hi, bringing with it its global roster of some of the world's most renowned electronic artists. Combined with Hi's calibre of production, this one is set to blow the roof off with state of the art design and sound that the become has already become famous for.  DJs confirmed include Steve Angello, Hardwell and Diplo and parties kick off on the 24th June.

From 1 June until 5 October, glamorous party Be Crazy! will take up residency at HEART Ibiza. A party for fashionistas and music heads alike, the new partnership promises to deliver an unforgettable, yet sophisticated experience for the more discerning crowd. DJs include Audiofly, Oxia, Sébastien Léger and Salomé.
Eden Ibiza has announced its opening party featuring techno label TRONIC & Friends. Techno brand Terminal4 lands in Ibiza for a summer full of intense techno parties! Each line-up combines well-established artists – such as Christian Smith & Jay Lumen – with up & coming talent with the aim of bringing a new vision of underground techno to San Antonio.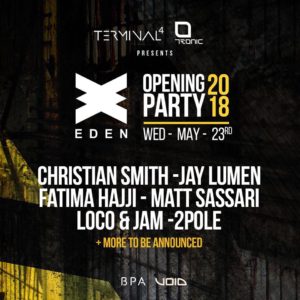 After a one-year break, flamboyant fiesta SuperMartXé is back in its rightful spot, resurrecting its residency on Thursdays from 7th June 2018. 2018 marks 10 years for the party, so expect outrageous extravangance with live stage performances, light shows and the most colourful team in town. Known for its hedonistic 'anything goes' attitude, acts such as Steve Angello, Afrojack, & Chuckie can be expected to appear playing the parties favourite electro house combined with commercial anthems.

To purchase tickets to any of the opening parties click here. To enquire about VIP tables, click here or email vip@ibizadiscoticket.com for further information.
Comment this Post