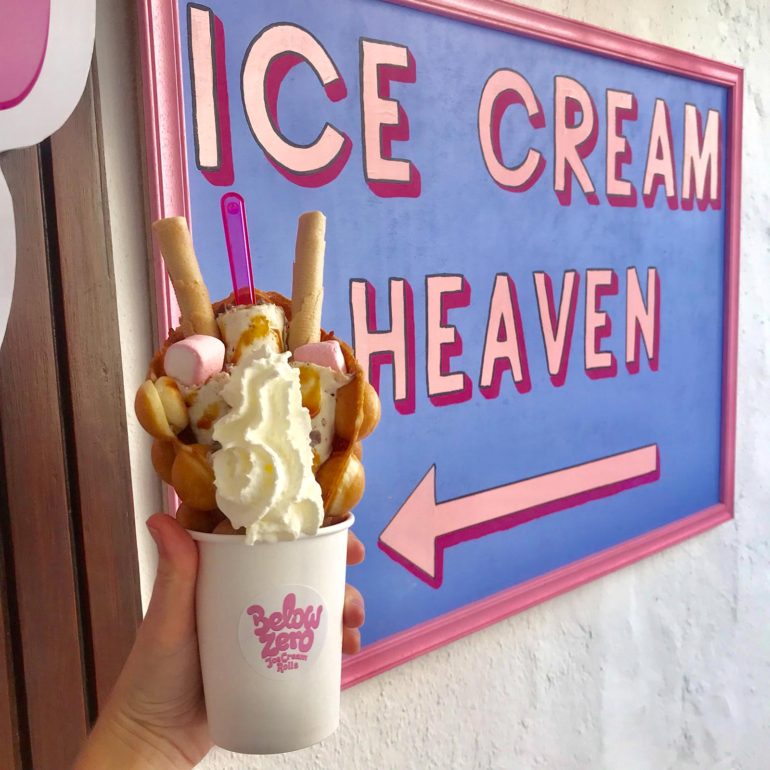 If you're looking for something sweet, delicious, and meticulously crafted into rolls this summer, look no further than Below Zero in Ibiza Town! Following its success with the island's the first-ever 'Ice Cream Roll Bar' last season, the brand has moved to new premises and boasts a brand new menu – including a candy floss burrito – as well as old favourites such as Oreo, Banana and Nutella, Fresh Strawberry and Kinder Bueno.
Owners Sarah & Tom customise every order into an irresistible, indulgent ice cream treat with a homemade vanilla recipe prepared fresh every day. The rolls are served in a tub – or choose a hot bubble waffle, crunchy taco,  or a tasty donut or croissant sandwich – and garnished with delicious sweet toppings and sauces. With its new location right in the centre of town, you can enjoy your rolls at the bar or kick back in the outdoor terrace with a beer or cold drink and enjoy the lively atmosphere of Ibiza port.
Initially a concept from Thailand, ice-cream rolling has become an Internet sensation with millions of videos watched online – and ice cream roll shops in major cities around the world including London, New York, Los Angeles and now Ibiza.
For further information check out the Below Zero Instagram or Facebook page or email rolling@belowzeroibiza.com
Comment this Post