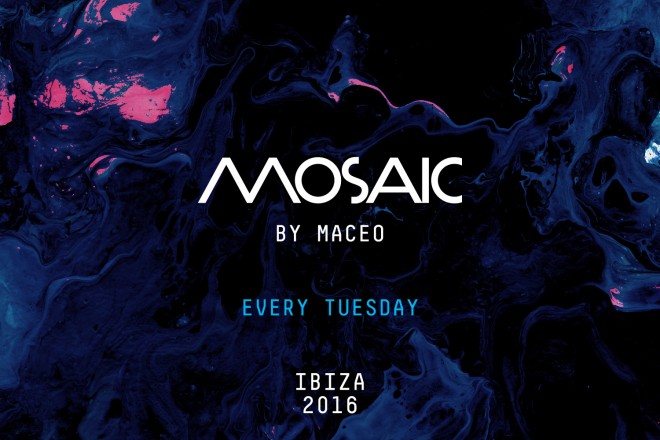 Maceo Plex is almost set to start his Ibiza voyage with Pacha Ibiza this summer. His first ever residency on the island, titled Mosaic by Maceo will launch on Tuesday 24th May and will span across the whole summer until the closing party on 4th October.
This is a mammoth first residency with Maceo Plex booked in for all 20 dates – no mean feat! We've got our hands on the line up for the whole summer and it's shaping up to be an epic party with an eclectic mix of talent performing each week with a few mammoth names thrown into the mix.
It goes without saying there are more than a few dates for your diary here but a few stand out ones for us include Maya Jane Coles on the 7th June, John Talbot on the 5th July and again on the 6th September. On the 12th July, a fierce trio of Maceo Plex, Len Faki and Bicep will perform in Pacha's main room and Damian Lazarus on the 13th September.
Without a doubt this party is going to be a stand out first residency and with Maceo more than impressing at Pacha's season warm up party a couple of weeks ago, the main man is on point and clearly ready to shake up the White Isle. 2016 club tickets for Mosaic by Maceo are available online now but if you fancy partying in style at Pacha, reserve a VIP table or get a quote with us.
24 May – Maceo Plex, Agents Of Time (live), Red Axes / Prism Room (Funky Room): Matrixxman, Conforce
31 May – Maceo Plex, Radio Slave, Rebolledo / Prism Room (Funky Room): Daniel Avery, Ivan Smagghe
7 June – Maceo Plex, Maya Jane Coles, Kiasmos (live) / Prism Room (Funky Room): Keinemusik, &ME B2B Adam Port
14 June – Maceo Plex, Pachanga Boys, Barnt / Prism Room (Funky Room): Steffi, Virginia
21 June – Main Room: Maceo Plex, Roman Flügel, Cobblestone Jazz / Prism Room (Funky Room): Live at Robert Johnson, Roman Flügel, Ata, Benedikt Frey
28 June – Maceo Plex, DJ Tennis, The Drifter / Prism Room (Funky Room): Line Up TBA
5 July – Main Room: Maceo Plex, John Talabot, Guest TBA / Prism Room (Funky Room): Dekmantel Soundsystem, Voiski
12 July – Main Room: Maceo Plex, Len Faki, Bicep / Prism Room (Funky Room): Correspondant, Jennifer Cardini, Fatima Yamaha
19 July – Main Room: Maceo Plex, Agoria, Paranoid London / Prism Room (Funky Room): Gold Panda
26 July – Main Room: Maceo Plex, Michael Mayer, Rebolledo / Prism Room (Funky Room: Kompakt, Patrice Bäumel, Fango
2 August – Main Room: Maceo Plex, Scuba, Agents of Time (live) / Prism Room (Funky Room): Pearson Sound, Lord Of The Isles
9 August – Main Room: Maceo Plex, Guests TBA / Prism Room (Funky Room): Line Up TBA
16 August – Main Room: Maceo Plex, Stephan Bodzin (live), Kölsch / Prism Room (Funky Room): Patrice Scott, XDB
23 August – Main Room:Maceo Plex, DJ Koze, Axel Boman / Prism Room (Funky Room): Permanent Vacation, Daniel Bortz, Benjamin Fröhlich
30 August – Main Room: Maceo Plex, Stephan Bodzin (DJ set), Shall Ocin / Prism Room (Funky Room): Architectural, Steve O'Sullivan
6 September Main Room: Maceo Plex, John Talabot, Pantha Du Prince / Prism Room (Funky Room): Line Up TBA
13 September – Main Room: Maceo Plex, Damian Lazarus, Acid Pauli / Prism Room (Funky Room): Patrice Scott, XDB
20 September – Main Room: Maceo Plex, Adam Beyer, Odd Parents / Prism Room (Funky Room): Ellum, Danny Daze, Shall Ocin
27 September – Main Room: Maceo Plex, Redshape (live), Danny Daze / Prism Room (Funky Room), Daniel Bortz, Sascha Sibler
Closing Party 4 October – Main Room: Maceo Plex, DJ Koze, Pachanga Boys / Prism Room (Funky Room): Ellum, Agents Of Time, Gardens Of God
Comment this Post