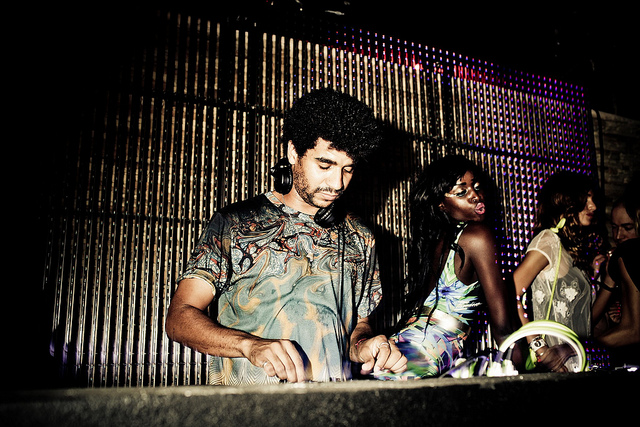 Hold the front page people because we've got some news from the Paradise at DC10 camp and it's the full line-up for Ibiza 2016. We kid you not, this is one mega list of artists, all showing face at Jamie Jones' star-studded residency, Paradise, every Wednesday at DC10.
Since it's humble beginnings, this party has become somewhat of a phenomenon with the cool kids willing to queue up in line for a chance to get in on the action at Paradise. If your idea of Paradise consists of Jamie Jones and a load of house and techno DJs who just happen to be the best in the business under one explosive roof together week in week out, then welcome to Paradise, my friend.
This party is all about high energy performances from DJs that ignite that magical music vibe over the audience creating a boisterous, lively party. Interesting to see that Joseph Capriati features so heavily and actually fills in for Jamie on the 31st August. He's jumped ship from Music On so it's nice to see him back this summer.
Opening Party 22 June – Jamie Jones, Dubfire, The Martinez Brothers, Nicole Moudaber, KiNK (live), Silvie Loto, Route 94, Richy Ahmed, Patrick Topping, wAFF, Luca Cazal, Robert James, Russ Yallop
29 June – Jamie Jones, Joseph Capriati, Guy Gerber, Carl Craig, Alan Fitzpatrick, Riva Starr, Lauren Jane, Richy Ahmed, Mark Jenkyns
6 July – Jamie Jones, Luciano, Âme, Midland, Stimming (live), Huxley, Patrick Topping, wAFF
Robert James, Jey Kurmis
13 July – Jamie Jones, Joseph Capriati, Claude VonStroke, Eats Everything, Ilario Alicante, Point G, Hector, Richy Ahmed, Nathan Barato
20 July – Jamie Jones, Guy Gerber, The Black Madonna, Mathew Jonson (live), Skream, Dense & Pika, Patrick Topping, wAFF, Luca Cazal
27 July – Jamie Jones, Joseph Capriati, Eats Everything, Craig Richards, Mr G (live), Kenny Glasgow, Benny Rodrigues, Mark Jenkyns, Russ Yallop
3 August – Jamie Jones, Maya Jane Coles, Lil' Louis, Steve Lawler, George Fitzgerald, Cuartero, Richy Ahmed, Nathan Barato
10 August – Jamie Jones, Danny Tenaglia, Nic Fanciulli, Eats Everything, Matador (live), Ryan Elliott, Patrick Topping, wAFF, Robert James, Russ Yallop
17 August -Jamie Jones B2B Joseph Capriati, Hot Since 82, Cassy, Skream, Popof, Rodriguez Jr. (live), Patrick Topping, Jey Kurmis
24 August – Jamie Jones, Adam Beyer, Âme, Roman Flügel, Stacey Pullen, Italojohnson, Ida Engberg, Igor Vicente, Denney
31 August – Joseph Capriati (4hr set), Steve Lawler, Eats Everything, Matt Tolfrey, Silvie Loto, Richy Ahmed, Nathan Barato, Jey Kurmis
7 September – Jamie Jones, Joseph Capriati (3hr set), The Black Madonna, Ryan Elliott, Catz N Dogz, Route 94, Kate Simko, BKR Project, Luca Cazal
14 September – Jamie Jones, Sasha, Art Department, Craig Richards, Guti (live), Sonja Moonear, Infinity Ink, Jasper James, Mark Jenkyns
21 September – Jamie Jones B2B Joseph Capriati, John Digweed, Matador (live), Daniel Bell, Detlef, Lauren Jane, Patrick Topping, Mark Jenkyns
Closing Party 28 September – Jamie Jones, Hot Since 82, Nicole Moudaber, Eats Everything, Mood II Swing, KiNK (live), Skream, Adam Shelton, Richy Ahmed, Patrick Topping, wAFF, Russ Yallop, Special guest TBA, Related content
Comment this Post