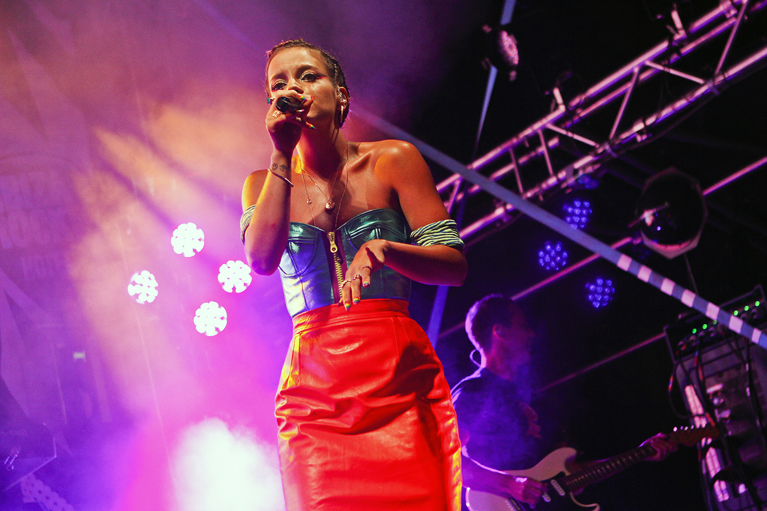 After taking a few years out to focus on family, Lily Allen is back with a bang and a new album 'Sheezus' to promote which brings her to Ibiza Rocks on the White Isle. I've always been a fan of Lily but never actually had the chance to see her live so I rocked up looking forward to her performance in the San Antonio concert venue.
She strutted onto the stage with with a bright green metallic bustier and orange knee length skirt and silver stilettos – looking better than ever. Opening with "LDN" the crowd cheered as she sang along to 'sun is in the sky, why oh why would I want to be anywhere else" which seemed pretty appropriate considering we're all dancing away in Ibiza. Lily seemed at ease on stage in front of her fans and after receiving a mighty applause and cheer she swiftly moved on to the next number, my personal favourite "Fuck You" from her second album, "It's not me it's you" – a not so polite dig at former US president George W Bush.
Lily moved on to some new material which I had been looking forward to. "Hard out here" from her new album "Sheezus" has been critically acclaimed as a feminist anthem with Lily giving her view on the 'misogynist' music industry. Her new material went down well with the crowd and after a quick outfit change Lily was back with a matching turquoise crop top, knee length skirt and hoody to belt out a few more tunes.
Never one to shy away from controversy or personal embarrassment, Lily went on to sing her latest smash single "Sheezus". As ever, her lyrics are positively outrageous and explicit taking a dig at her female counterparts in the music industry; Rhianna, Katy Perry, Lorde and Lady Gaga. But that's why we love her right – because she doesn't give a shit.
Complaining of technical issues she apologised a few times about "sounding shit" but she needn't have worried because she sounded in tune throughout and she looked like she was having a great time. Lurking in the background were four impressive musicians who played away with Lily whilst sang songs from all three of her studio albums.
Headlining at Ibiza Rocks is the first time Lily has performed on the island but it's not her first time in Ibiza. She told the crowd whilst giggling and smiling that she had had spent a summer in San Antonio handing out flyers for Plastic Fantastic record shop – no doubt a nostalgic memory for the mother of two. After reminiscing about her summer on the White Isle she went back to some of her old stuff with "Smile" and "22" which the crowd belted out along with her.
The visuals on the huge screen behind her mirrored her lyrics perfectly, controversial, brazen and bloody funny. I especially loved the naked male torsos who had their modesty covered up with pictures of diamond rings, stacks of cash and other ludicrous images.
Lily ended with one of her best known hits "The fear" and before we knew it she was off stage and the concert had ended. Overall I was really impressed with her vocals and she mixed some of her new stuff with old favourites which were real crowd pleasers. Let's hope she's back again next summer!
To check out who is next up at Ibiza Rocks and for tickets to all of the events click here. 
Comment this Post