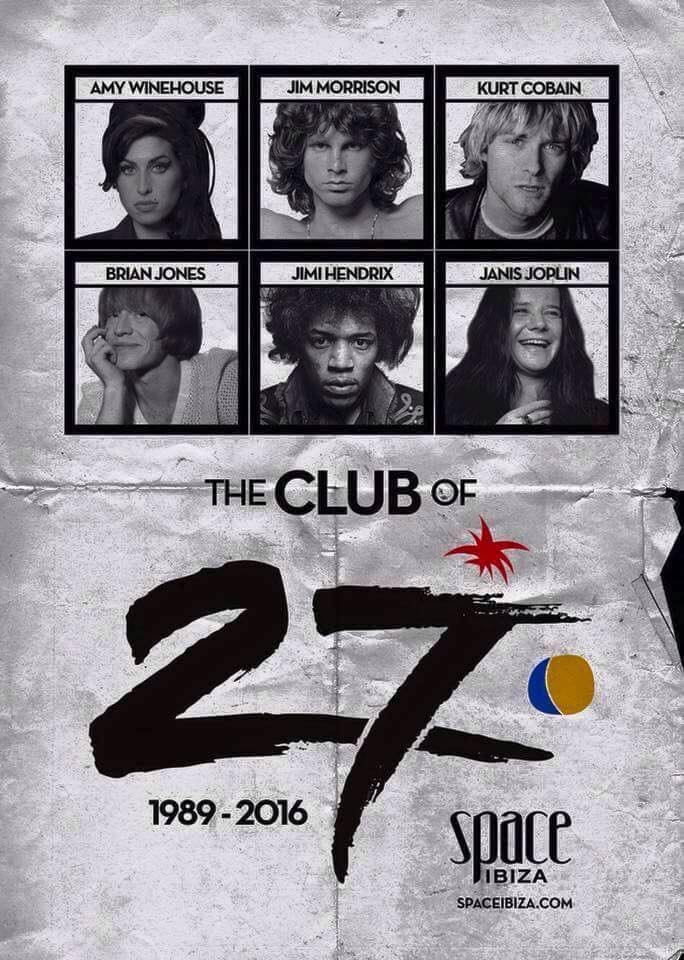 For any serious Ibiza clubber, it won't be news to hear that this summer will be the final hurrah for Space. The legendary nightclub that has been a clubbing institution since the late eighties has very much defined the party culture of today and to mark their final season, Space have released their new concept for 2016 entitled the 'Club of 27'.
It's a clever idea showcasing the lives of legendary artists that died way before their time at the tender age of 27 – and it will be 27 glorious years that Space have been open from 1989-2016. Amy Winehouse, Jim Morrison, Jimi Hendrix, Brian Jones, Janis Joplin and Kurt Cobain are the creative pin ups to celebrate the concept. How the concept will play out in the venue and the parties this season we'll just have to wait and see until the opening on 29th May.
In terms of residencies and parties this summer, we already know that ENTER. will not be returning this season to Space, which has been a shock considering the club will be celebrating its final year. Hawtin's ENTER. will be missed, we loved the carefully crafted line ups every week and dark, creative concept but competition is fierce and packing out a venue as vast as Space every week is no easy feat. No doubt techno god Richie Hawtin will be back with a powerful new party when he is good and ready.
The loveable Luciano and his crew of Vagabundos replaced the We Love residency in Space last year, but sadly it failed to bring in the big crowds meaning it's likely that he will not be returning either. It wasn't too long ago that Sundays in Ibiza were synonymous with partying in Space, it was just the done thing. We hear big plans are in place to bring that back along with the madness and hype we remember unfolding in Playa D'en Bossa.
Obviously Mr Space Ibiza himself, the legendary Carl Cox will be back every Tuesday from June 15th which is the longest run Carl has done in Ibiza, with his parties usually starting bang in the middle of the season in July. Carl Cox Music is Revolution: 'The Final Chapter' will mark an end of an era as his last season in Space. This is no doubt one of the busiest and best loved parties on the island which is largely down to Carl Cox fans and the banging line up week after week. We are waiting with baited breath who he will book to play his final parties with in his favourite place on the island.
Glitterbox, the house music fuelled party has been confirmed for 2016. They will be hosting Friday nights after a successful season last year. Already confirmed for the 2016 season are Basement Jaxx, Dimitri From Paris, Todd Terry, Joey Negro, Roger Sanchez, Simon Dunmore, Purple Disco Machine and DJ Pippi.
Space Ibiza closing and opening fiestas have pretty much defined the opening and closing of the Ibiza summer season with their legendary line ups and wild party atmosphere so it will really be an end of an era come October when they not only close their doors for the season, but for good.
We will miss you Space but not before we party like it's 1989 all over again, all summer long! We salute you Space Ibiza!
Comment this Post