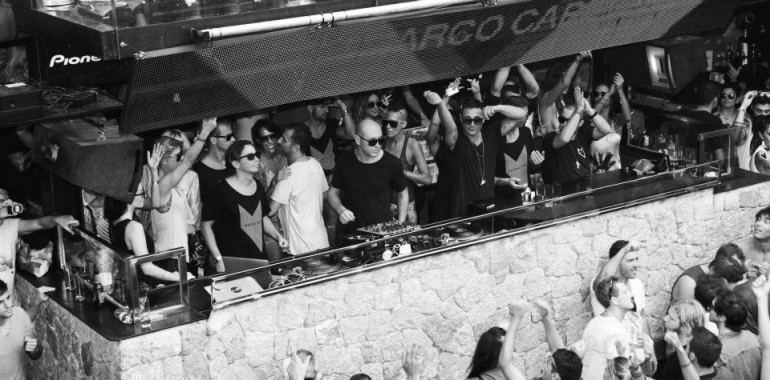 By Lisa Marks
Music is what draws us all here to this hedonistic island, and we really do just want the music to play on and on. What better way then to spend a night and maybe the night after getting lost in music than at the fittingly titled 'Music On' at Amnesia Ibiza.
The flyers for this night, the vision of Italian DJ and producer Marco Carola launched in Miami in 2011 and now filling Amnesia's dance floor to capacity, proclaim it's all about the music and for me that says it all.
I'm a recent convert to the cult of Carola, having resisted joining until half way through the season last year when the buzz around this Friday night got me thinking I should go and find out exactly why this night was proving so popular. Now every time I step into that club I just want the music to go on and on. It's hypnotic frankly.
It has that affect on me and seemingly the rest of us packed into a rammed club with barely room to move let alone dance. But somehow we managed it. Although my friends would have preferred the disco fun that is Glitterbox at Space I think they might have been the only ones as the rest of us just wanted to dance all night long.
The party continues to Cova Santa with the same up for it attitude and a beaming Carola behind the decks, easily visible from the dance floor, as the sun goes down and the music plays, well, on.
With queues to get in from before the doors even open at midnight and Amnesia packed out,  it's not a night to go to if you fancy a sit down or get annoyed in crowds. We were fighting for space and unwilling to leave our spot on the terrace, spoilt as we were with Carola and DJ'Ulz.
It's hard not to be tempted by the talents of Paco Osuna though and so worth fighting through the club to the main room. Osuna made my friend's day when we bumped into him on the stairs and my mate said hello to him. Sadly we didn't bump into Sam Paganini and newcomer resident Joey Daniel but there's always next time.
The crowd was more mixed than the I remember but isn't that just evidence that word has spread about this night. It's not a secret, it's popular and maybe this might put people off, as it's the classic big club and commercial with a price tag to match. Yes, the 70 Euros ticket price is too damn much but this night can afford to lose a few followers.
Maybe it's the bass, maybe it's the atmosphere but I'd try it before you write it off and September is the best month to get involved, fewer people, less stress. I might be following our leader to Miami but for now it's all about here and all I can say is let the music play on!
For tickets to Music On this summer click here, or to enjoy the party from above in the VIP area, message us for a quote.
Comment this Post