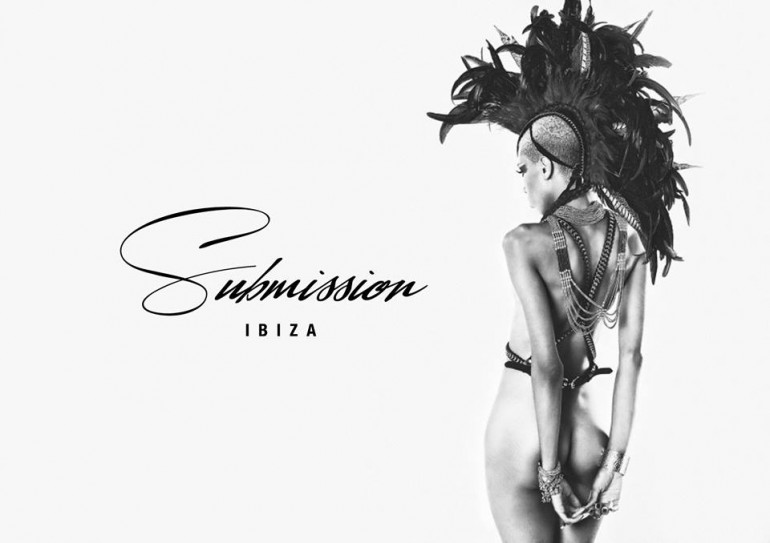 Giving into, and exploring your all of your deepest desires is a theme that once ruled Ibiza; an expressive time when the island's famed hedonistic culture was at its all-time prime. In this day, the urge to keep that spirit alive is still present for those who believe Ibiza is still the special place for it, and HEART Ibiza's Submission, hosted on Saturday nights, is on a mission to bring that lively, naughty nature right back to where it truly belongs.
HEART is known for their satisfying all of your senses, making it the ideal pleasure dome to host a night like Submission that exists to shock you, thrill you, and fulfill you. Walking in, your mind is quick to learn that Submission is unique from HEART Ibiza's platter of eccentric parties hosted through out the week. The music thumps in dark tones as the Dominatrix in her studded mask, black latex, and lashing whip greet you with a silent invitation to test your limits as you walk through the door.
You may find her in a more secluded room later in the night with like-minded individuals if invited upstairs into HEART's dungeon for a more expressive and intensified experience. And one must remember, there are no films or photos permitted- what happens in the dungeon stays in the dungeon. With Submission's intent to re-create a magic that has long been lost, the experienced and inexperienced meet on the dance floor and come together to bask in the dark, edgy vibe of the room that is layered with a true gritty underground feel from the music and visuals.
There are no over-the-top, hyped up superstar DJs at the helm of Submission, but local talents who know just what to lay down in this kind of environment, ranging from sexy, funky basslines to hazy, melodic techno. Live instruments and vocals are added into the mix, adding an energy that has the dancing crowd in their glory. The spastic visuals splattered across the room give the room a rough, artistic graffiti effect that adds extreme volume to the sights and sounds of the club. Up on stage, you'll find dancers sauntering in scantily-clad erotic wear taunting and teasing the crowd, as they look on and play with their hunger.
As Submission goes into its 8th week at HEART, it's clear that it's a party with proper potential. Submission is yet another reminder to be open to new experiences if you are foreign to them and let go of your inhibitions – a mantra that Ibiza was built on. For tickets to Submission every Saturday at HEART click here and to enquire about a VIP table, message us.
Comment this Post