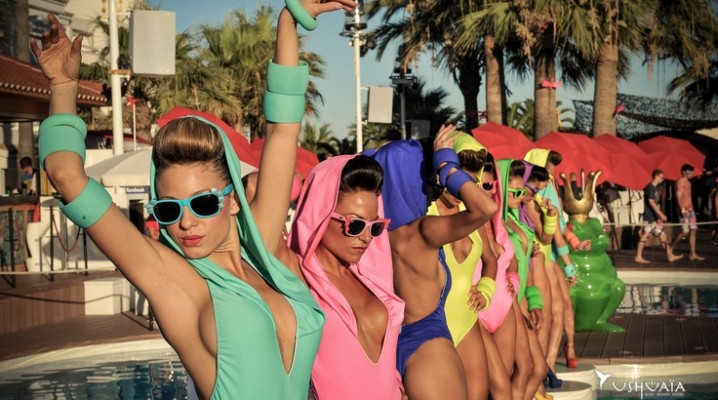 Ibiza is a perfect destination for a girlie weekend away with hen and batchelorette parties descending on the island every summer. The choice in Ibiza is limitless when it comes to eating, drinking and partying so we've included our favourite spots on the island to make your holiday the very best it can be.
TO RELAX:
Ibiza is a very relaxing island despite its clubbing reputation. Escape away from the tourists spots and you will find an oasis of calm and spirituality. You can head to the many Yoga centres and retreats and practice on the beach with like minded yogis. Or if a spa is something of interest then head to Atzaro in the north of the island. There you can enjoy a variety of treatments, massages and enjoy full use of the spa and saunas. The location of this spa which is also a luxurious hotel and the restaurant is stunning, probably one of the best on the island. Other great spots is the Hacienda Hotel in Na Xamena, Zentropia or the Open Spa at the Ibiza Gran Hotel.
TO EAT:
You could spend endless days and nights flitting from one amazing restaurant to the next and for variety of cuisine and dining styles; Ibiza has in abundance. One of our favourites include La Oliva located within the walls of the Dalt Villa in Ibiza Old Town. The tables are set along the cobbled streets of the castle making it a perfect place to people watch and be among the hustle and bustle. The relatively limited menu serves perfect grilled meat and fish dishes accompanied by gorgeous home-made desserts and the olives and home-made aioli are to die for. Sa Brisa on Vara De Rey is our favourite for posh tapas, La Bodega by the castle for traditional tapas, Metro Pizza in Cas Serres has the best pizza on the island made by the ever talented Napoli chefs and if you fancy a little va va room served up with your meal then head to Bambuddah on the Santa Eularlia road.
The new STK opens in Ibiza in July, a great steak restaurant in Marina Botafoch. This is looking likely to be the new in place to be in Ibiza and now we are taking reservations for the VIP area. Click here for more information. Sushi Lovers will not be disappointed after dining at Sushi Point, in Marina Botafoch. This Japanese restaurant serves the freshest sashimi and most elegantly styled plates of sushi for an elite crowd dressed up to hit the clubs after dinner. A DJ plays chill out house music whilst you dine to get you into the party mood later.
Balafia is a Spanish owned restaurant in the North of the island. Expect a beautiful outdoor terrace area complete with lemon and lime trees. This no frills hidden gem serves the best BBQ meat on the island. You can choose your meat which is served with a delicious salad and thin crisp style fries to. Simply a gorgeous little family run restaurant that never fails to astound their customers.
TO WATCH THE SUNSET:
No Ibiza holiday would be complete without a trip to the sunset strip in San Antonio. Sunset bars, Cafe Mambo, Savannah and Cafe Del Mar offer a superb assortment of cocktails and dinner whilst you sit back in your chair and watch the sun slowly melt into the sea.
Another less commercial option to watch the famous Ibizan sunset is to head over to Experimental Beach Club. A windy long road leads you to the most stunning cliff-edge views on the island. The secluded beach club has huge white beds you can relax and unwind on, sipping sangria as the sun goes down. Benirass beach is islander's favourite on a Sunday with a beach party, hippy vibe with drummers playing live on the beach until the night time. Kuhmaras in San Antonio is also a perfect spot on San Antonio bay, a great bar and restaurant to watch the sun go down.
TO DRINK:
If you want to avoid the chaos of San Antonio and Playa d'en Bossa but still want that Ibiza buzz and exciting energy then head to Ibiza Town. The selection of port facing bars and cocktail joints are plentiful. Zoo Bar and Tango are situated opposite one another on the corner of the port and both serve up excellent cocktails and chupitos that will help you on your way to a good night out. Enjoy the club's theatrical dancers and promoters that parade the streets each night giving you a tester of what to expect in the clubs later on.
TO PARTY:
The options to party in Ibiza is a long endless list where people can party from day through to night. Daytime parties are a popular choice at venues such as Blue Marlin and Ushuaia where you can enjoy the hot Ibiza sun whilst sipping cocktails and wine on sun loungers until you're ready to get your groove on and dance into the night.
Nightclubs don't generally get going until 1 or 2 am and will close around 6 or 7am. Pacha and Heart are great options if you fancy a night out in Ibiza town or Amnesia, Space and Privilege are the go to super clubs if you're looking to get messy on the dance floor until sunrise.
For all Ibiza 2016 club tickets click here. If you fancy your parties with a little more VIP then get a quote from us for a table or luxury bed.
TO SHOP:
The Hippy market in Punta Arabi in Santa Eularia is a great place to pick up quirky, interesting pieces to take home with you, they sell everything from home made items of clothing and jewellery to artisan delicacies.
Spending an evening wandering around the cobbled streets of Ibiza town and looking around the cute boutiques is an enjoyable way to see what is on offer in terms of fashion and souvenirs.
If you're looking for clubbing attire then head to Raza in Playa d'en Bossa who sell all the club and party merchandise. A typical Ibizan drink that you might want to take back with ou is called Heirbas, a herb liquor that all the restaurants and bars serve on the island – It's Ibiza's favourite drink!
Comment this Post