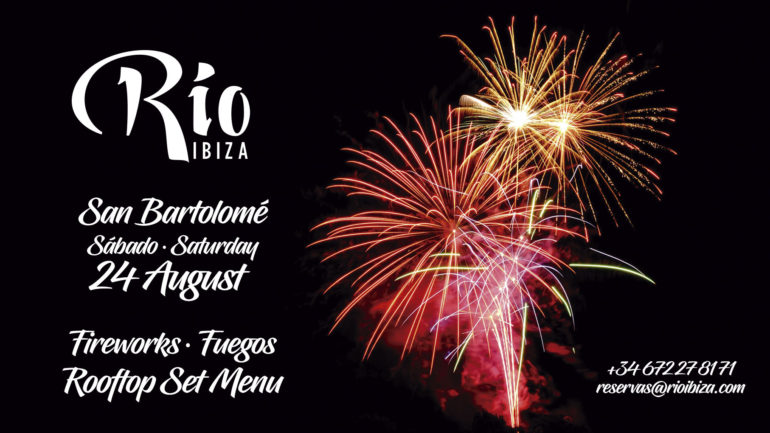 San Antonio hotspot, Rio Ibiza, has announced two specially curated rooftop menus to celebrate San Antonio's upcoming San Bartolomé fiesta this Saturday 24 August.
Available on the venue's beautiful Jack Daniel's Rooftop BBQ & Grill – which offers panoramic views of the harbour – the Copacabana Menu is priced at 50 euros and includes a champagne cocktail upon arrival, choice of Argentinian empanada or Butifarra with Padron peppers to start followed by tenderly grilled steak or marinated Rosemary chicken for main. Finish with a 'Rio Special' fireworks popping candy Papaya cream dessert and a Jack Daniel's Honey Tennessee on the rocks for digestif.
Those looking to indulge in the extraordinary can opt for the Ipanema Menu for 70 euros, which offers the season's hero 'Pornstar Martini' for aperitif, grilled prawn cocktail or beef carpaccio with truffle oil to start and T-Bone steak or Mixed Grill for main. Guests can opt for either the 'Rio Special' fireworks dessert, or the delectable double chocolate cream with Oreo crumble before ending with a glass of Moët & Chandon – the ultimate extravagance!
And of course, the pièce de résistance, guests will be able to enjoy the spectacular fireworks display – due to decorate the San Antonio skies from midnight – from the best viewpoint in town.
Arguably San Antonio's most celebrated fiesta, the 24 August sees the community come to together to remember its patron saint with a host of festivities and celebrations.
To reserve your seat for the San Bartolomé Rooftop Fireworks Dinner email reservas@rioibiza.com or call +34 672 27 81 71
www.facebook.com/pg/RioIbizaOfficial
Comment this Post