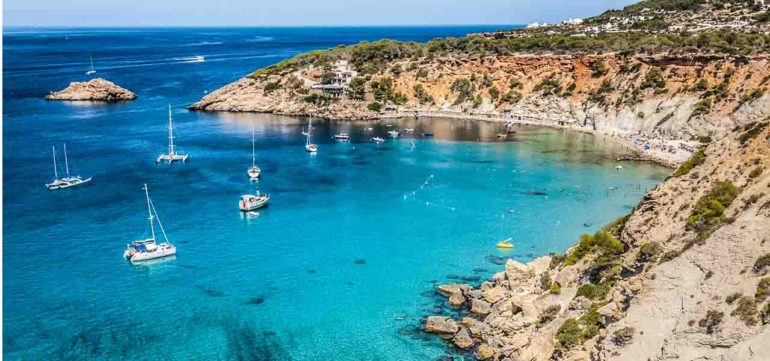 Here are a list, of what we think at Ibiza Disco Ticket, are the top 10 beach clubs in Ibiza…
1. Amante Ibiza
Amante Ibiza is a beach club located above Sol Den Serra beach, near Cala Llonga, Santa Eularia. This beach club not only offers exquisite Italian and Spanish food, and perfect complimentary cocktails, but this is a beach club with a twist. As well as being the setting for weddings, family celebrations and fashion shows, Amante Ibiza hosts film nights. Expect cosy nights cuddled up on bean bags, surrounded by palm trees, dramatic rock faces and lush greenery, accompanied by an experience for all senses with a sea breeze subtly whispering in the background of one of the most beautiful cinemas in the world powered by Cinema Paradiso.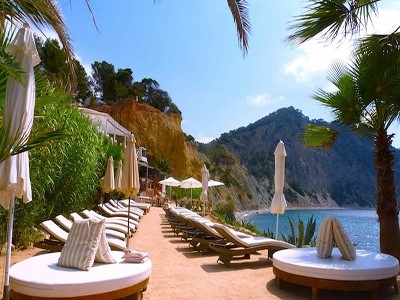 2. Cotton Beach Club
Cotton Beach Club in Cala Tarida is one of the most famous beach clubs on the island and has been dubbed the 'Best Beach Club. The rooftop is where the magic happens'. Best known for their two first class restaurants with a world class menu for food and drinks, Cotton Beach Club, not surprisingly decked out in 100% cotton, boasts views across the Mediterranean, with clear blue waters, seaweed and rock free.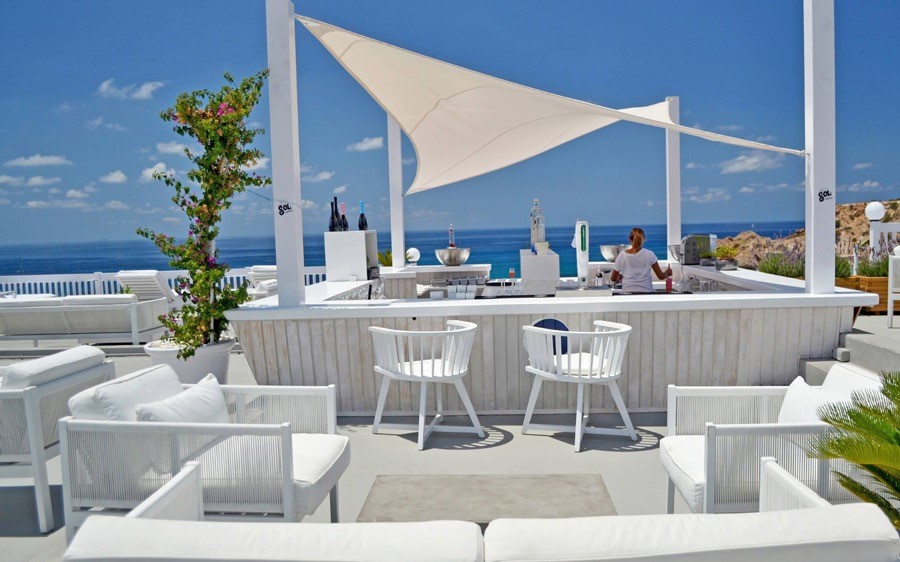 3. Elements Ibiza Beach Club
Elements Ibiza Beach Club is based in the North of the island, in Cala Benirras, it's individual in its style, as it is built from the roots of a eco-friendly ethos. As a sunset beach restaurant, beautiful views from the north of the island can be viewed whilst eating from a Mediterranean menu prepared with a selection of local fresh organic products. Elements Ibiza offers facilities such as massage, a Boutique to inspire a new look but is most of all a perfect place to spend time chilling out. The evening sees entertainment such as fire shows and live art experiences making Elements Ibiza Beach Club a place that could easily occupy your whole day and night in an extremely friendly way.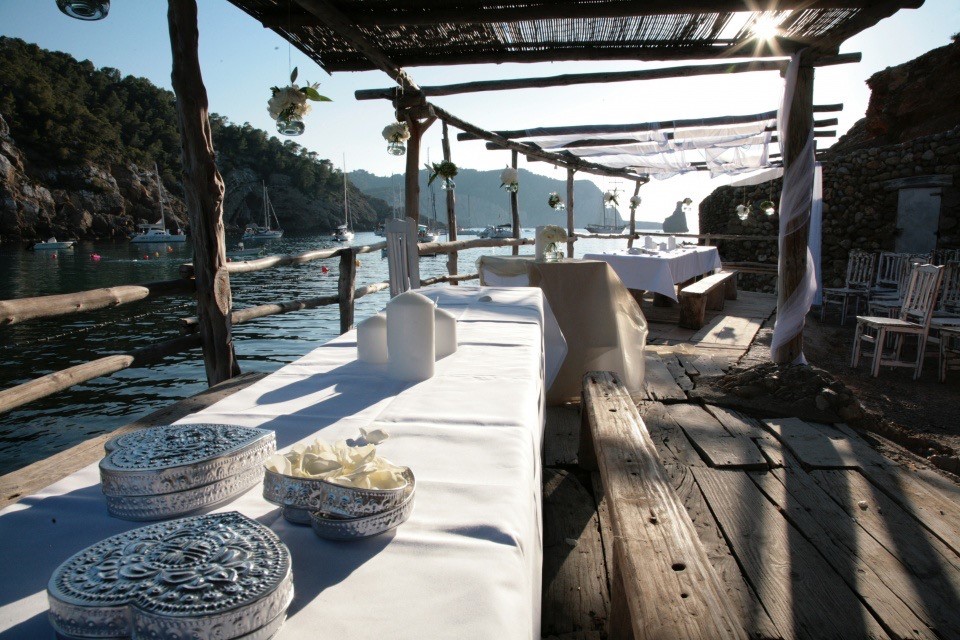 4. Ushuaia Beach Club Restaurant
Ushuaia is one of the most heavily branded and well recognised beach clubs on the island of Ibiza, located in the south east of the island in Playa d'en Bossa. Its hummingbird logo can be seen adorned across the clubbing world in the form of t-shirts, lanyards and even across the skin of many seasoned Ibiza veterans conveys just how important this beach club/ day time rave venue/ restaurant/ hotel/ overall brand is to the image of Ibiza. Hosting day parties such as the infamous Ants on a Saturday to Tini Tempah's Disturbing Ibiza, Ushuaia is more than just Ibiza's #1 open air venue. Ushuaia boasts a beautiful sea front beach club, in the most select atmosphere, a high quality gastronomic offer and a very attentive service make it one of the most special places on the island.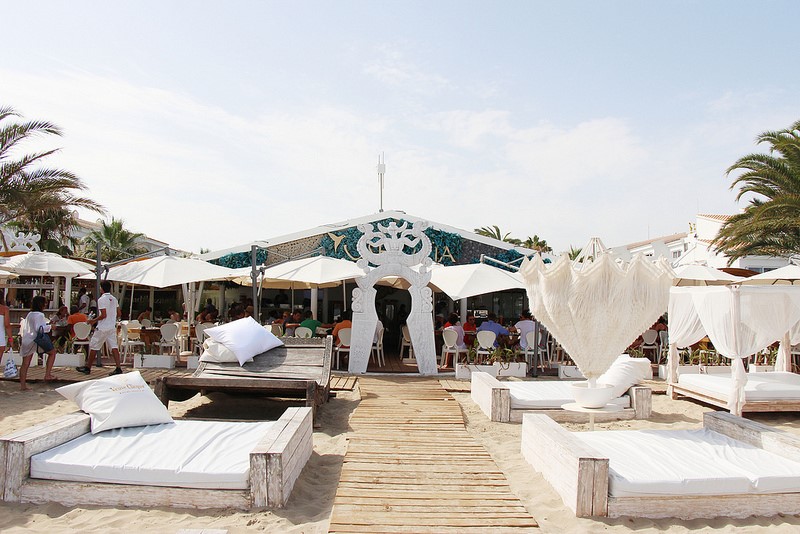 5. Experimental Ibiza Beach
Experimental Ibiza Beach Club based in Las Salinas again in the south east of the island. Based in the beautiful surroundings of Las Salinas, it has clear blue waters, and views that only compliment the fresh fish and tapas menu. This extremely chilled beach club also has a boutique of its own, the Treasure Chest, full with bohemian style threads to reflect the relaxed vibe of Experimental beach club. Alongside its space for private events and tantalising views of the sunset, this is definitely a beach club to not be missed over the summer season.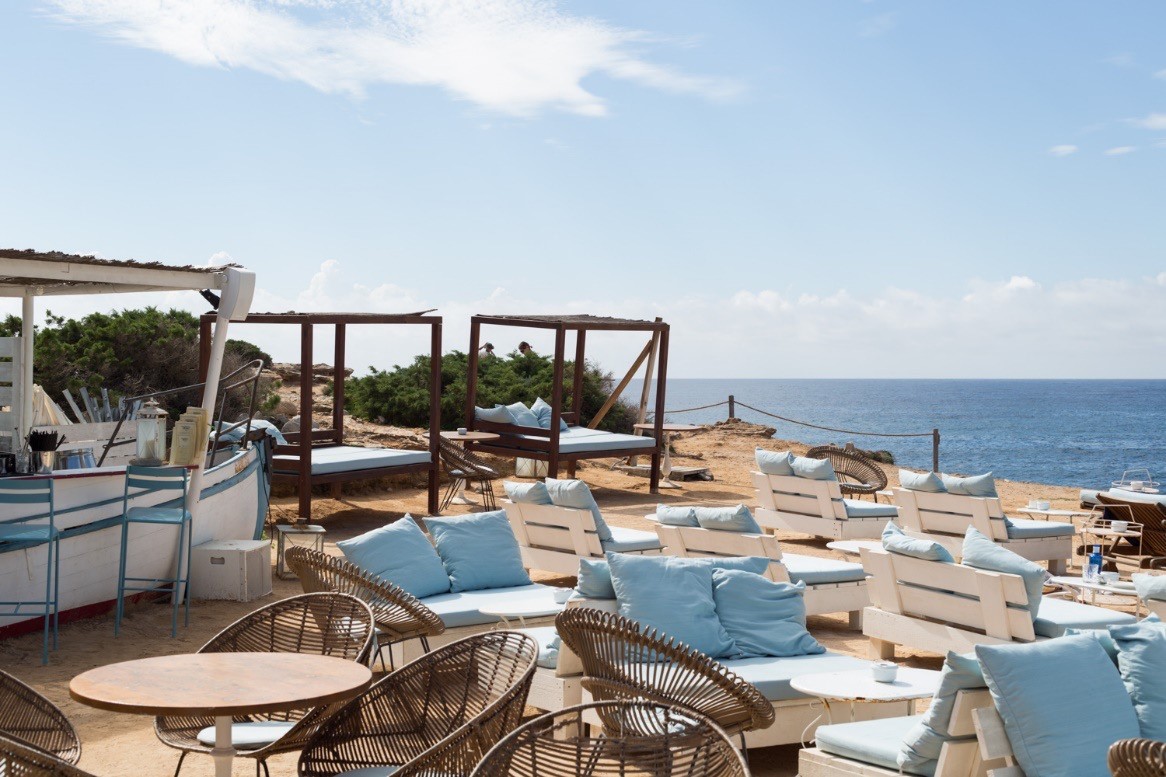 6. Beachouse
Beachouse have dubbed themselves 'the spirit of Ibiza' that encompasses all visitors young and old to it's beautiful Playa d'en Bossa based sea front beach club. Beachouse can be found right at the end of the Playa d'en Bossa beach and serves only the tastiest health inspired Italian food and juices to all its customers. If on holiday as a family, Beachouse also loves the little people that visit and with a tag-line 'paint, play, enjoy!', those that have come on holiday as a family can also express their time in different ways with a separate area for kids to play and create in. With Beachouse serving dinner and drinks until the evening, this is the perfect spot for families to enjoy beach clubs together.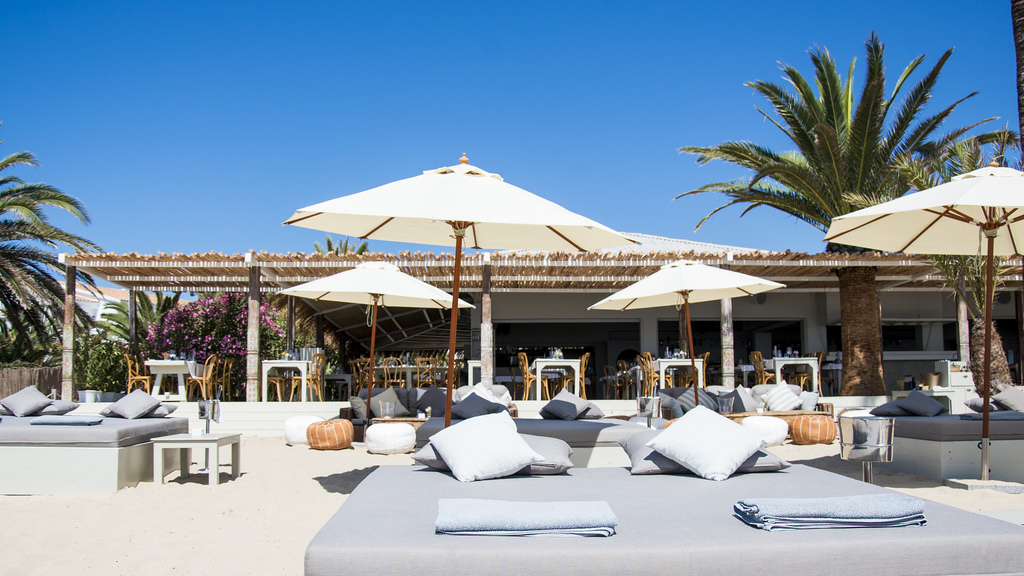 7. Nassau Beach Club
Nassau Beach Club is one of the pioneers of Ibiza's world famous beach club scene. Situated in the infamous Playa d'en Bossa it is home to the simplicity and unique attitude that has made Ibiza one of the most popular world destinations. Filled with the positive qualities of Ibiza, Nassau Beach Club has a unique Mediterranean- Asian inspired menu to match its décor, with the watchful eye of the Buddha statues keeping look over all that reside there. A great social place for friends to meet and chat over cocktails in the beautifully dressed beach club, Nassau also has a boutique aimed at women who style is sensual, sophisticated and elegant.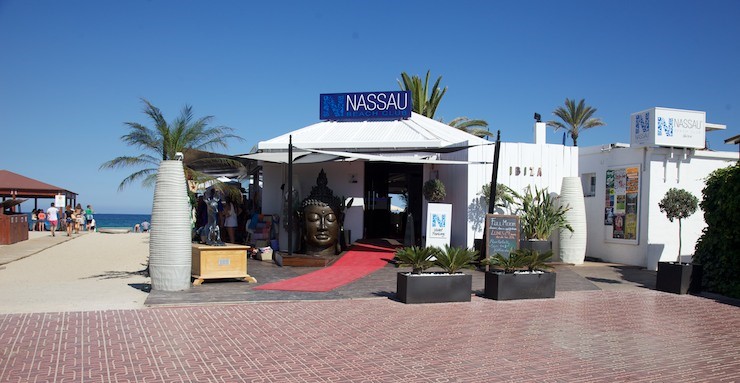 8. Tropicana Beach Club
Tropicana Beach Club, labelled Ibiza's first beach club, is based in a more untouched part of Ibiza in Cala Jondal. The beach itself is an absolutely unique and privileged enclave on the south west of the island. A place that offers an elaborate breakfast, lunch and dinner menu alongside colourful cocktails it is a place that reflects Ibiza's relaxed vibe. However, if you really want to engage in the vibe of the Tropicana Beach Club visit the kiosk on a Sunday when the Tropical party is held to the rhythm of the Caribbean and Brazilian rhythms where you can dance samba, salsa, merengue and percussion!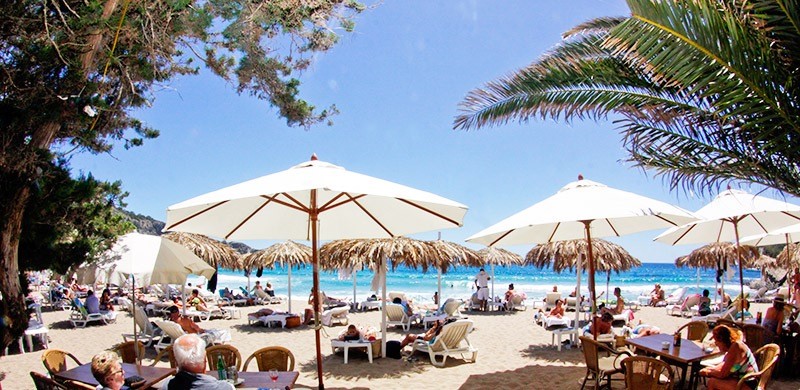 9. Maya Beach Club
Maya Beach Club is dubbed 'your reachable dream' for just how dreamily beautiful the setting of the beach club is in. Immersed in the splendid natural landscape of Cala Vadella in Ibiza, Maya Beach Club is also a restaurant that combines the charm of sophisticated design and the harmony of its seafront terraces where guests can enjoy a lunch, aperitif, dinner (which includes Italian and Sushi menus) and even an after dinner event if they like. The refined menu was designed carefully by international chefs, complemented with an exquisite wine and champagne list, prepared and served by exclusive sommeliers.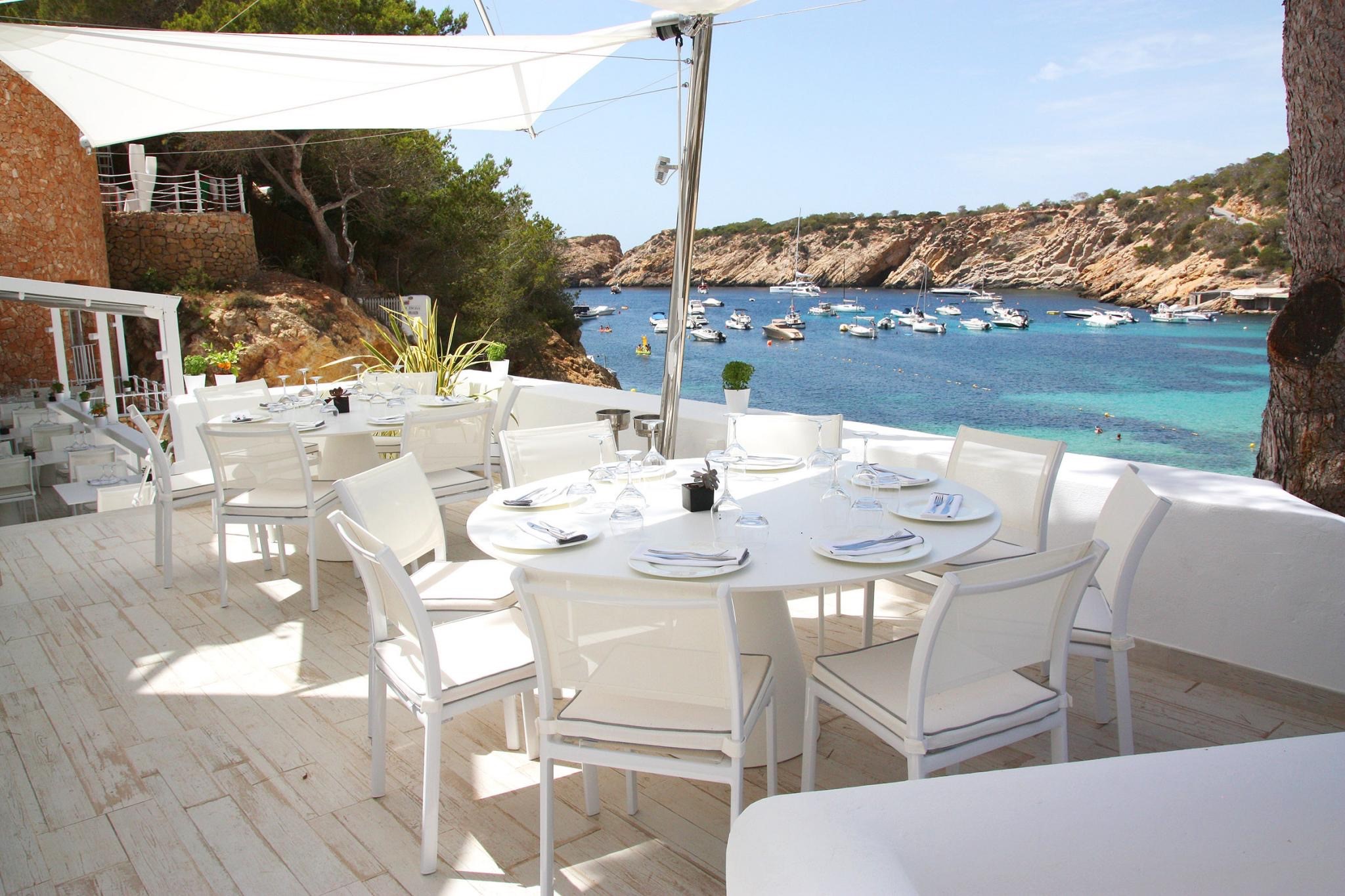 10. Cala Bassa Beach Club
Cala Bassa Beach Club is located in one of the most beautiful beaches in Ibiza in Cala Bassa close to San Anotnio. Soft sand and almost a thousand juniper trees shade their three restaurants. The beach club is a unique gastronomic experience with three fabulous restaurants. Enjoy linen-cover loungers and feel the sea on one of their jet skis. An experience that can allow both your mental and physical wellbeing be positively enlightened, this beach club is in a league of its own.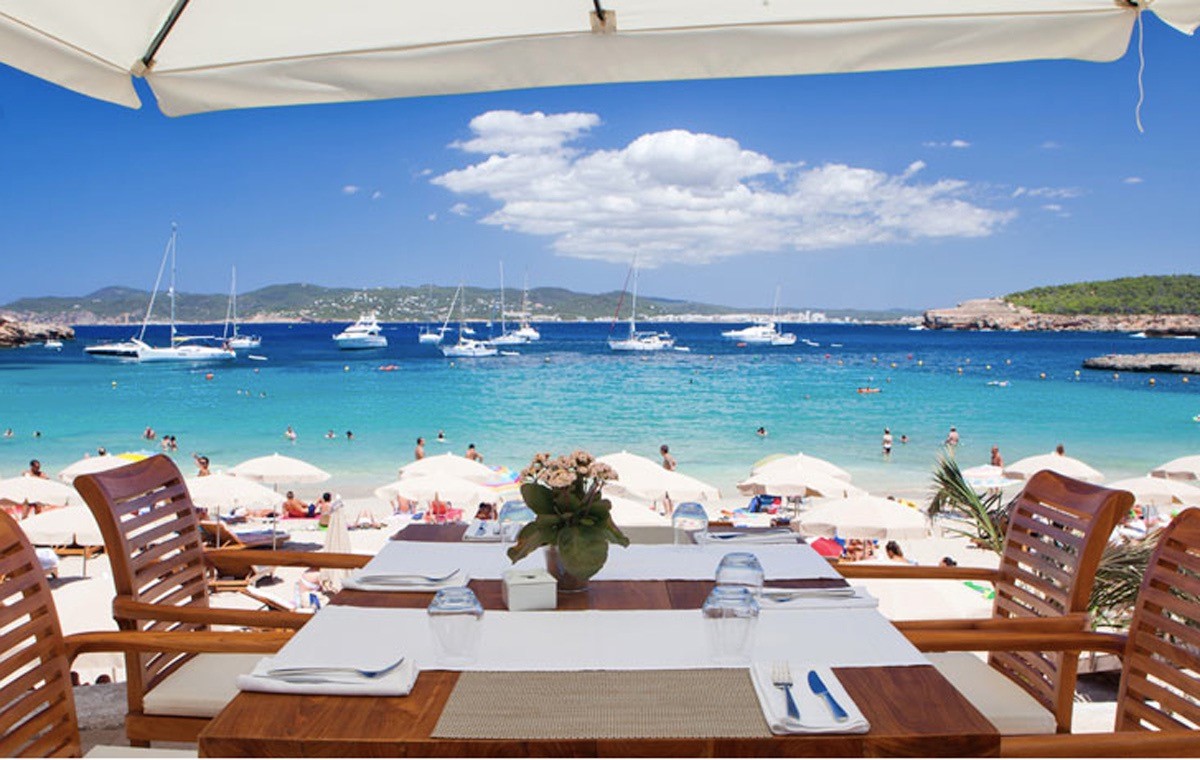 Comment this Post