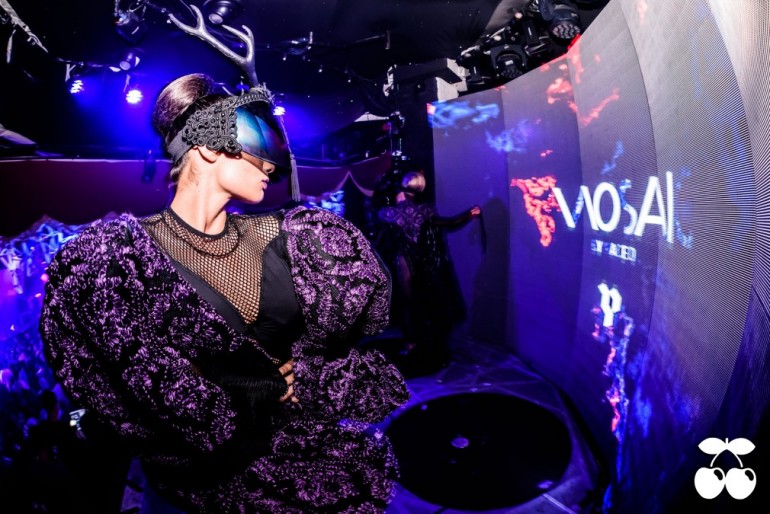 Many would say Ibiza has been crying out for a little diversity and a sidestep from the omnipresent tech house sound that has dominated in recent years. Well Maceo Plex's first island residency takes a risk and delivers a welcome divergence from the status quo with his Mosaic by Maceo Plex night at Pacha.
On every Tuesday night until 4th October, this exciting new party will bring a diverse lineup including numerous artists not known for playing in Ibiza. Heading straight to the dancefloor on arrival, it's hard not to be impressed by the futuristic set up. Dancers in the form of neo-gothic brides wear venetian style masks which are complemented by Victorian era full skirts and blouses not dissimilar to the late Alexander McQueen's widely regarded designs.
While they writhe inside pulsating blue light cages, the dancefloor is slowly filling up thanks to the intriguing techno that Cologne based DJ and producer Barnt is slyly luring us in with. This is easy to dance to and we are lulled into a sense of safety, musically, before Barnt does a bait and switch on us and drops the hardest, loudest most body-shaking, teeth-jittering bassline I've heard in a long time. But somehow it just works and the crowd, an international mix of revellers, goes with it and the energy amps up to another level.
Barnt has us eating out of the palm of his hand by the time Pachanga Boys are due to play. I'm surprised to see how quickly the energy escalated and wonder how Pachanga Boys will keep the momentum building. Barnt is finishing his set with more cowbell and as Pachanga boys take the stage, it quickly becomes clear that there is one simple answer to my question. VOLUME.
Red lasers appear, which also happen to mark the arrival of one of the evening's rare vocal tracks, Substance by Dot Allison, bringing us down from Barnt's tough techno to a more relaxed, shoulder shruggy, disco kinda groove that we didn't know we needed it until it was there. Bliss.
Time for some fresh air and we head up the winding terracotta staircase, to the roof.  There's nothing quite like the walk up those silent stairs to make you feel like you're at someone's villa rather than arguably the world's most famous nightclub. Looking around on the roof and it has to be said that Pacha nails it with the lighting, creating a glowy ethereal ambiance unlike any other that makes you feel right at home… if your home happens to be a lush villa. This is Ibiza after all! 
We stay for a bit before we return to the Main Room just in time to see Pachanga Boys handing out chupitos to an appreciative dancefloor ahead of the headline set from the evening's main man.
Maceo opens with a familiar futuristic spacey track that for the life of me I can't place. This is a different Maceo Plex to the one we're used to seeing at Amnesia or DC10, this version is more moody, brooding and dare I say it – interesting. He is weaving his magic, playing some of his old tracks while teasing us with some of his upcoming releases. Kudos to the lighting and production team as the music and lights were in perfect harmony. It's 4am now but the night has only just begun.
Mosaic set out to cultivate a creative ensemble of artists that bring new flavours to the Ibizan clubbing landscape and tonight they nailed it. Taking us on a adventure of vast musical genres, spectacular light shows and exciting decor. A beautiful mosaic is the sum of it's pieces, something that Maceo and his team clearly understand. It's all very dark. And moody and grand!
DJ Koze, John Talabot, Acid Pauli and Roman Flügal are just some of the DJs set to play this summer. For tickets click here and for a VIP table get a quote with us.
Comment this Post