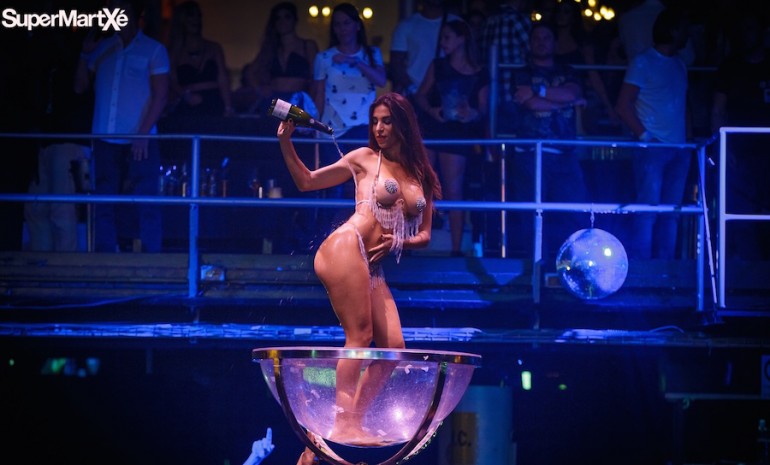 By Emily Bee.
June 18th saw Supermartxe return to Privilege for the third time this summer, complete with their famed brand of explosive and debaucherous campery.
A gigantic Disney-esque castle loomed over the crowd from the main stage expelling various girating, muscled and siliconed fantasy characters to orchestrate the crowd.
Supermartxe is just as much about the performance and theatrics as it is the music and celebrity guests, and this week's fantasy theme did not disappoint. Regal, titilating performances from crotch grabbing princes, surgically enhanced Parisian courtesans and a full cast of fluttering 18th century fans and face masks gave an impression of a Lee Bowery tinged Las Vegas cabaret show.
Spanish house diva Rebekah Brown emerged villain-esque in a black cloak to deliver a powerful set of house classics. It was a stellar performance that kept the crowd (a little too) engaged.
The rest of the room saw bungee LED bikers descending from the ceiling and contorting martini glass dancers and DJ sets from Brian Cross, Abelthekid, Alex Guernero and Salva Di Nobles punctuated with confetti and dry ice explosions.
I have been to Supermartxe before many a time and can confirm it is one of best and most unique parties on the island. It is so much more than your average club night. It delivers theatrics, campery and a unique perverse energy that in my opinion is unmissable on a trip to Ibiza.
On this occasion however, an unusually modest sized crowd gave an uneasy dynamic to the grand theatrics emanating from on and off stage. The lighting was too bright and the crowd felt overwhelmed, watching the show like a west end musical and failing to fully enjoy the music and engage in the clubbing experience as a whole. Although enthralled in the show, there was a distinct lack of dancing and engagement in the rest of the room.
It was a fantastic and flawless show that unfortunately needed a bigger crowd. Out of many visits to Supermartxe this is the only one I have experienced off kilter, however I don't doubt that the queens of camp will draw in a larger troupe of subjects to their castle next week.
For 2016 club tickets to Supermartxe in Ibiza click here or to receive a quote for a VIP, get in touch.
Comment this Post