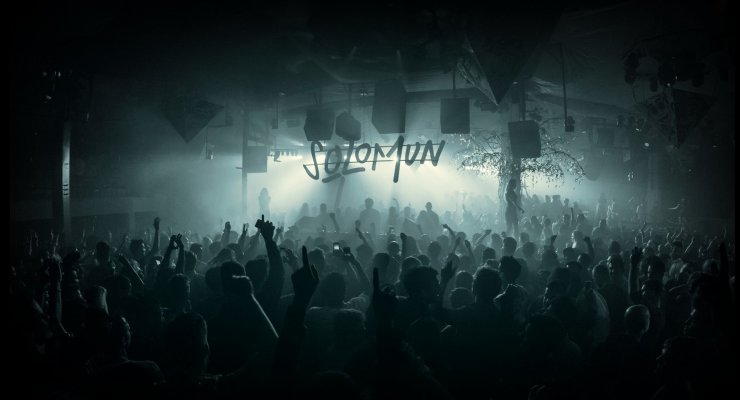 By Alexandra Koszo He's come a long way since Neon Nights at Sankeys in 2012 and since then it's been a Diynamic rise to the top for crowd favourite, Solomun. Crowned winner of DJ Mag's DJ of the Year award in 2012, Solomun is known for his fun, melodic and feel good DJ sets which have helped catapult him to success. 
It seems at the moment he can do no wrong, his cleverly designed Solomun +1 night will bring many incredible artists in their own right to Pacha Ibiza to play alongside the man himself. Mano Le Tough, Michael Mayer, Black Coffee, Âme and most surprising of all, Richie Hawtin on the 28th August. With such high profile and much loved artists such as these appearing throughout the season and with the party now in it's fourth consecutive year, it's clear that the +1 position is more coveted than ever. 
Swaying up through the terrace and onto the dancefloor, the club is at capacity and the crowd is shoulder to shoulder. There is no mistaking it, this is THE party to be at on a Sunday night in Ibiza. VIP tables are alive with energy, the dancefloor is heaving. Shimmering oversized palm trees frame the DJ booth, which is in the middle of the floor, creating an intimate unison between crowd and DJ.
Above us there are neon triangles lighting up the dancefloor every which way you look, creating a synergistic and oh so 2016 feel. Koze is playing his own kooky brand of electronic music the way only he can. Known for his experimental and sometimes disorientating sets, it's unpolished perfection. He manages to cultivate sounds that are precise and sharp and then twist them into something that feels blissful.  
As we dance to his melodic tunes there's no denying the high energy in the room is built on anticipation. He teases us with tropical melodies, all the while threading in a darker and creepier beat. It's a rather delightful journey and there are big smiles on blissed-out faces across the dancefloor. Solomun takes over from a visibly beaming Koze and he begins weaving his magic. Things continue on that plane for longer than I've experienced on the dancefloor in a long time. There's just so much energy in the room!
It's nearly daylight and the party shows no signs of slowing down and in fact I would even say the energy is building, I can feel that the best part of the night is still ahead. Koze gets back on the decks and drops a major tune, a Radioslave remix of Deer In The Headlights (thanks Shazam).
There are people literally dance-fighting for a spot on the dancefloor. Solomun is not to be outdone, dropping a remix of Silent Shout by The Knife that is soul shakingly good. Lasers, lights and of course the omnipresent flashing neon triangles add to the energy and it's another blazing moment!
An hour later the crowd shows no sign of thinning and is more electric than ever. This is testament to the back-to-back formula, with two world renowned DJs trying to outdo one another, there are no lulls, only moments.  As Solomun likes to say, 'Music is Moments' and there's no better way to describe the night than in his own words. For tickets to all Solomon + 1 events this summer click here and if you fancy your parties VIP style then message us for a quote.
Comment this Post