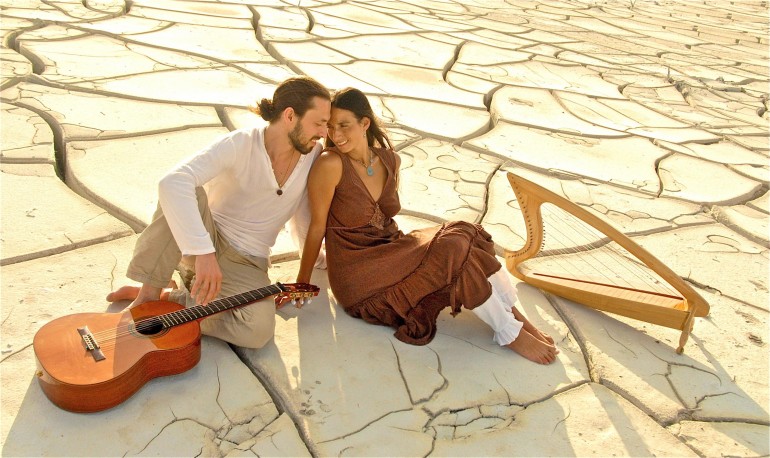 Wake Up Ibiza festival invites us to a gathering of spiritual seekers, and those curious to explore higher consciousnessWake Up Ibiza festival invites us to a gathering of spiritual seekers, and those curious to explore higher consciousness, to connect with the elements, to themselves, to each other, with the healing vibrational energy of movement, dance and music for a day of unconditional love and non judgemental fun.
Wake Up Ibiza celebrates this spiritual sanctuary in a family fun environment on July 21st 2016 for its second year in succession, within the serene surroundings of Benimussa park, with the beautiful backdrop of the Benimussa hills, lined with orangeries and lush green goodness, and graced with a spectacular sunset, a haven of pure natural meditative energy and beauty.
Featuring this year as special guests Mirabai Ceiba, the inspirational world music duo who blend kundalini chanting with traditional native american influence, share a fresh style of devotional music for vibrational healing. The delicate sounds of harp, piano, and guitar blend with lovingly intertwined voices amid lush celestial soundscapes.
Mirroring much of Mandala garden's enchantment and mysticism, Wake Up Ibiza 2016 will manifest a unique journey through an opening ceremonial celebration with a communion of conscious creators through Kundalini Yoga, Tantra and Mantras creating space for meditation, and into live ethnic and artistic performances and a celebratory finale of ecstatic dance for all with Dj Kareem Raïhini.
A place where locals and tourists are invited to healing sessions in our Healing Garden, and workshops to enjoy throughout the day. Guests can indulge themselves in a water dance massage in the beautiful pool area, and nourish themselves with vegan food and fresh natural juices. The Kids & Arts corner will provide a creative space for the whole family.
With an open hearted love, Wake up Ibiza festival 2016 welcomes all, as it bridges the gap between the North and South of the island. Get inspired and join together as a collective universal spirit of love and oneness to celebrate the joy of life in a time of abundant transformation.
The festival experience is designed to carry you on a journey of transformation beginning at 4pm with the Opening ceremony through to a celebration of freedom in a finale of collective ecstatic dancing until midnight. Wake Up Ibiza encourages you to share the entire enchanting journey of love from beginning to end….
Advance Tickets: €30 / Ibiza Resident Discount: €20 (only with proof of DNI/NIE on the door) Advance tickets outlets in Ibiza: Savia Eco Tienda, Ibiza | Ecocentro, Santa Gertrudis | Disqueria Holiday, Santa Eulalia
Comment this Post