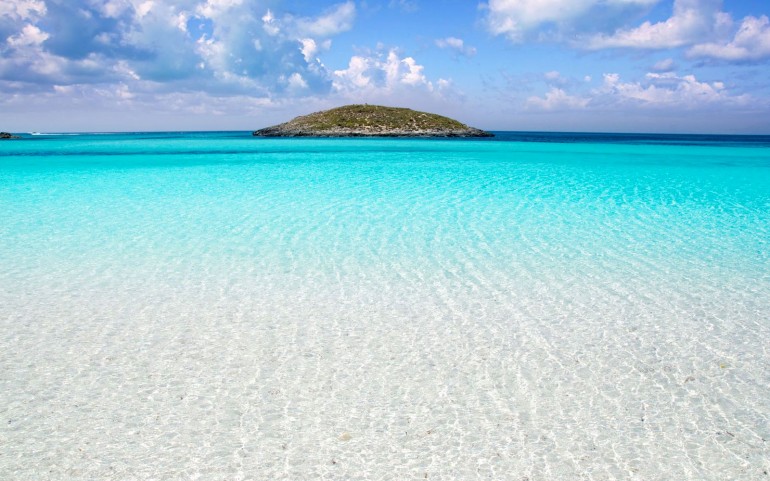 When you think of Formentera you probably think of Playa De Ses Illetes (pictured above). And rightfully so. The beaches on Formentara, with their long swathes of creamy white sand slowing fading into crystal clear water, are consistently ranked as some of the best in the world. It's sheer bliss! But unknown to most, there's much more to explore on the "other" Balearic island. Here's a rundown.
Spend an afternoon in San Francesc
Formentera's "capital village" is as charming as you'd imagine a tiny Iberian village would be. It has a cluster of small streets, a main square, a hippy market that is open every day, and a fortress church (Church of Sant Francesc Xavier). It's a great place to relax and experience more traditional Balearic vibes.
Experience the barren nature on a Bike
Everything on the island is reachable by a car, a scooter, a bike, or ahem…a yacht. Riding around the island on a bike grants you extraordinary views of the endless Mediterranean stretching off into the distance, with super yachts and tropical fish decorating the coastline. We suggest renting a bike from the Port and riding along the narrow, dusty coastal path to Playa De Ses Illetes.
Chill out on a Beach
Most people's obvious choice of beach is Playa De Ses Illetes. It's the one you see on postcards and as a result it's often over-crowded with holiday seekers from Ibiza who took the Ferry over. Just a stone's throw away is Playa de Llevant – another gorgeous beach that's much bigger and less crowded than Playa Des Illetes. It faces North, offering great views of Dalt Villa in Ibiza Town and the rock of Es Vedra. It typically has rougher waters so it's great for having a swim.
Two other great beaches on the island are Playa Es Arenals and Playa de Migjorn.
Explore Caves on a Kayak Excursion
Formentera has plenty of beaches, and plenty of caves – magical caves; the kind of caves that make you feel like you've entered another world. The best way to explore them – nigh, the only way to explore them – is by Kayak. Some are so thin that you nearly get stuck going around bends – not for the clausterphobic. You can also rent a Kayak to view a beautiful sunset on the water. The tours take place on Tuesdays and Thursdays. They last 3 hours and cost €30 per person. Check it out here.
Watch a sunset at the Es Cap de Barbaria Lighthouse
Another place in Formentera that looks like it's been plucked straight from a postcard is the famous lighthouse of Es Cap de Barbaria. The path to the lighthouse down the Cap de Barbaria is desolate and mysterious. Once you reach the lighthouse you'll want to look for the entrance to the cave. It's just a hole in the ground with a rustic ladder descending to a set of rocks that hang over the deep blue sea. It's a magical place to watch a sunset!
Do some yoga
Yoga retreats in Formentera are plentiful. There are some idyllic spots for you to get your zen on. One we've been to and would recommend highly is Gecko Beach – it's a beautiful setting over looking the sea, wonderful food and top class yoga to boot!
Comment this Post